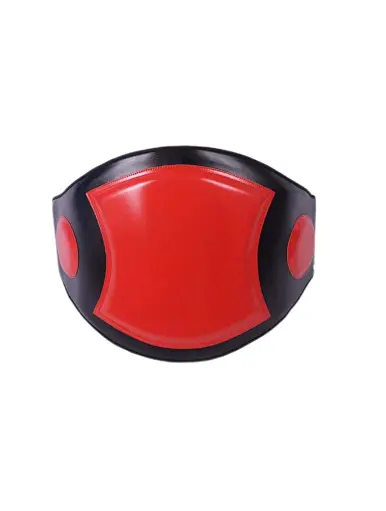 Boxing Waist Target
Union Max Fitness specializes in boxing training products including the highest quality Boxing Waist Target. If you need this product, please feel free to contact us.
Description of

B

oxing Waist Target
Boxing waist target is a common equipment for practicing boxing skills and enhancing body strength. It is mainly used to increase waist muscle strength, improve hand-eye coordination, and enhance endurance and energy. Compared with other boxing training equipment, it is safer and can effectively reduce Risk of injury while providing comprehensive training that helps improve all aspects of physical fitness.
Product Features of

B

oxing Waist Target
1. High-quality PU leather: The punch bag waist target is made of top-grade PU leather, which is highly resistant to tearing and wear, ensuring its durability and longevity.
2. Thicker waist guard: The waist guard is thickened to provide shock absorption and reduce impact force, offering comprehensive protection and ensuring user safety during training.
3. Multi-layer reinforced construction: The punch bag waist target is designed with high-density woven bands and precision hand-sewn stitching, creating a sleek and stylish appearance while also enhancing durability and strength.
4. Wider adjustable Velcro: The punch bag waist target comes with a wider Velcro strap that can be adjusted to different waist sizes, allowing unlimited upper and lower body movement, and ensuring a tight and secure fit for convenience during use.
5. 180-degree coverage: The punch bag waist target provides complete protection, covering the abdominal area from all angles, enabling athletes to train with confidence and focus on perfecting their skills.
6. Thicker reinforced side points: The punch bag waist target is designed with thicker reinforced side points to distribute the force evenly and prevent deformation, ensuring its structural integrity and preventing potential injuries.
Specifications of B

oxing Waist Target
| | |
| --- | --- |
| Product Name | Boxing Waist Target |
| Origin | China |
| Certifications | ISO 9001 |
| Brand | Union Max |
| MOQ | 10 pieces |
| Price | $22.70-82.54/piece |
| Packing | Carton |
| Material | PU |
| Color | Black and Red |
| Size | 52*43cm |
| Usage | Boxing Training |