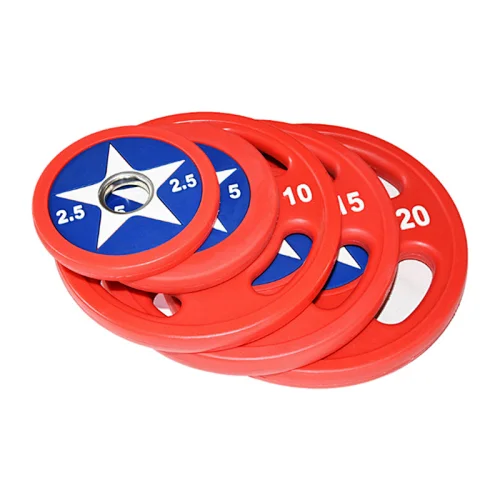 Captain America Weight Plates - Olympic 2"
price
US $3.75 / kilograms
Captain America Weight Plates
Shop Union Max Fitness for official Captain America weight plates! We've been exporting for over 10 years, so you can trust us to provide quality weight plates for sale. Get your favorite superhero-themed plates today!
Description of Captain America Weight Plates
Captain America weight plates are a type of weight plate that is designed to look like the shield of Captain America, a fictional superhero from the Marvel Comics universe. They are typically made of polyurethane and are available in a variety of weights. Captain America weight plates are a popular choice for both home and commercial gyms, and they can be used for a variety of exercises, such as bench pressing, squats, and deadlifts.
Product Features of Captain America Weight Plates
1.The Captain America Weight Plate has six specifications: 2.5kg, 5kg, 10kg, 15kg, 20kg, and 25kg.
2.The material of this product is a high-quality cast iron inner core with PU Coating on the outside.
3.This product comes in a colorful finish with a Captain America-inspired graphic and raised white lettering for easy identification.
4.The PU shell has a good bounce, and the bounce is higher for less noise.
5.No pungent smell is more environmentally friendly.
6.You can buy them individually, in pairs, or as a set, and you can mix and match any size to suit your needs.
7.Conventional carton packaging can also choose pallet packaging.
Specifications of Captain America Weight Plates
| | |
| --- | --- |
| Product Name | Captain America Weight Plates |
| Origin | China |
| Certifications | ISO 9001 |
| MOQ | 500kg |
| Price | $3.75-5.45/kg |
| Packing | Carton |
| Usage | Build muscle |
| Application | Gym and your home |
| Type | Olympic 2" |
| Material | Cast Iron and PU Coating |
| Size | 2.5kg, 5kg, 10kg, 15kg, 20kg, 25kg. |
| Color | Red, White and Blue |