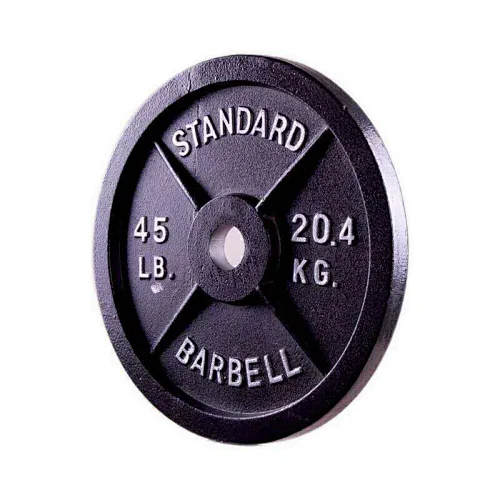 Cast Iron 2″ Olympic Weight Plates
price
US $2.55 / kilograms
Union Max Fitness offers 10+ years of export experience for cast iron 2″ Olympic weight plates. Shop our selection of Olympic weight plates for sale and get the best deals on premium-quality plates.
Description of Cast Iron 2″ Olympic Weight Plates
With their ease of use and ability to enhance one's fitness experience, cast iron weight plates are a versatile tool that can be utilized independently or with a barbell to engage all muscle groups and aid in cardiovascular training.
Product Features of Cast Iron 2″ Olympic Weight Plates
1.The Cast Iron Olympic Weight Plate is available in 6 sizes: 2.5kg, 5kg, 10kg, 15kg, 20kg, and 25kg.
2.Made from solid cast iron, the Cast Iron Black Four-rib Painted Weight Plate features a durable black lacquer finish that prevents rust and corrosion on the plate.
3.The barbell plate's four ribs on the surface give it a stylish look, and each size comes with a white-weight logo.
4.The plate is designed to fit a standard-size Olympic bar with a 50mm bore.
5.You have the option to buy these weight plates individually, in pairs, or as a set, allowing you to mix and match any size to best fit your needs.
6.You may choose between conventional carton packaging or pallet packaging for your convenience.
Specifications of Cast Iron 2″ Olympic Weight Plates
| | |
| --- | --- |
| Product Name | Cast Iron 2″ Olympic Weight Plates |
| Origin | China |
| Certifications | ISO 9001 |
| MOQ | 500kg |
| Price | $2.55-3.15/kg |
| Packing | Carton |
| Usage | Build muscle |
| Application | Gym and your home |
| Material | CastIron |
| Finish | PaintFinish |
| Size | 2.5kg, 5kg, 10kg, 15kg, 20kg, 25kg |
| Color | Black |
| Aperture | 50.4mm |
| Sales model | Sold individually, in pairs or as a set. |