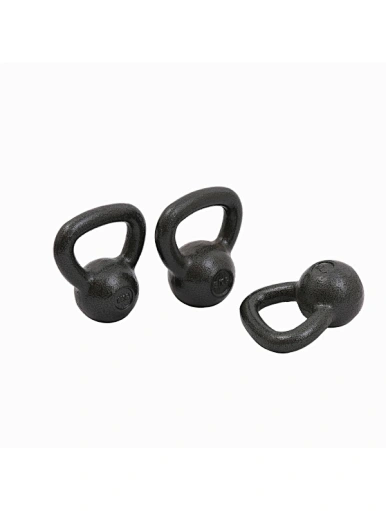 Cast Iron Kettlebells
Looking for high quality Cast Iron Kettlebells? We are a manufacturer of strength training products offering 4kg to 20kg of weights to suit your needs. Contact us to get your Kettlebells today!
Description of Cast Iron Kettlebell
Cast-iron kettlebells are ideal for resistance training exercises. The different weight ranges, marked in kilograms, make them suitable for any workout, from swings to pushes and pulls. With a wide range of free gym equipment, they are one of the most versatile options available.
Product Features of Cast Iron Kettlebell
1. This painted cast iron kettlebell is available in a range of sizes, from 4kg to 20kg, in 2kg increments.
2. The kettlebells are made from solid, high-quality cast iron for long-lasting strength and durability.
3. The painted finish is resistant to corrosion, while the wide, textured handle ensures a comfortable and secure grip.
4. Choose from individual, pairs or sets of kettlebells, and mix and match the weights to fit your needs.
5. Packaging options include carton and pallet.
Specifications of Cast Iron Kettlebell
Product Name

Cast Iron Kettlebell

Origin

China

Certifications

ISO 9001

MOQ

500kg

Price

$

1

.

5

5-1.

9

5/kg

Packing

Carton

Usage

Build muscle

Application

Gym and your home

Material

Painted Cast Iron

Size

4kg to 20kg (in 2kg increments)

Color

Black