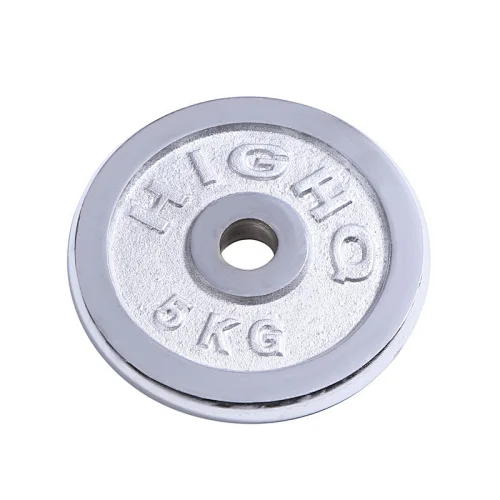 Chrome Weight Plate
price
US $2.65 / kilograms
Union Max Fitness offers a range of chrome weight plates for sale - perfect for your home gym. With 10+ years of export experience, you can trust us to provide you with the highest quality weight plates. Our plates are designed to last and help you reach your fitness goals. Shop now to get the best deals!
Description of Chrome Weight Plate
This weight plate is made of high-quality cast iron material so it can withstand a lot of resistance and pressure. Premium quality and long-lasting, no matter your fitness experience or workout routine, every weight will benefit your workout.
Product Features of Chrome Weight Plate
1.This Chrome Weight Plate is available in 6 sizes: 2.5kg, 5kg, 7.5kg, 10kg, 15kg, and 20kg.
2.This Chrome barbell plate has two apertures of 25mm and 30mm, you can choose according to your needs.
3.This weight plate can be used to work the shoulders, arms, chest, back, and leg muscles.
4.This chrome barbell plate can help fitness people perform multi-directional movements, deeply stimulate muscles, and increase muscle strength faster.
5.You can buy them individually, in pairs, or as a set.
6.Conventional carton packaging can also choose pallet packaging.
Specifications of Chrome Weight Plate
| | |
| --- | --- |
| Product Name | Chrome Weight Plate |
| Origin | China |
| Certifications | ISO 9001 |
| MOQ | 500kg |
| Price | $2.65-3.95/kg |
| Packing | Carton |
| Usage | Build muscle |
| Application | Gym and your home |
| Material | CastIron |
| Finish | ElectroplatingFinish |
| Size | 2.5kg, 5kg, 7.5kg, 10kg, 15kg, 20kg |
| Color | Silver |
| Aperture | 25mm and 30mm |
| Sales model | Sold individually, in pairs or as a set. |