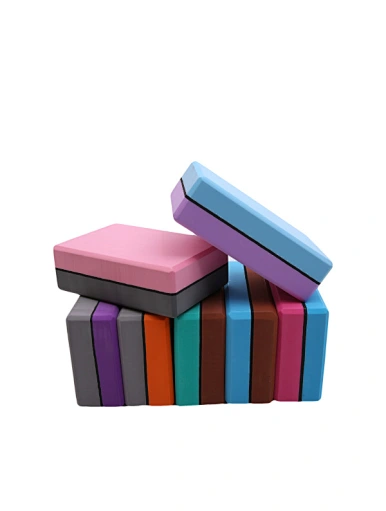 Color Matching EVA Yoga Block
Color Matching EVA Yoga Block-1
If you are looking for top quality and cost-effective Color Matching EVA Yoga Blocks and other yoga products, look no further than Union Max Fitness! Contact us today to get the best deal.
Description of Color Matching EVA Yoga Block
This Color Matching EVA Yoga Block is made of high-density EVA material with a non-slip surface. It features color splicing design, which provides you with a unique aesthetic experience. The smooth and soft surface with a three-dimensional angular cut surface gives you a comfortable and stable grip. It also helps you deepen your understanding and expression of asanas, and enables you to experience poses that require more support, building the necessary strength for better poses. Its eco-friendly material ensures your safety and comfort.
Product Features of Color Matching EVA Yoga Block
1. EVA Yoga Block, with its soft and smooth surface, ensures no skin irritation.
2. Splicing colors for a unique look and to serve as a color-controlled yoga design guide.
3. Three-dimensional angular cutting surface prevents palms from being scratched, giving you a comfortable and stable grip.
4. Yoga blocks with moderate hardness deliver a more comfortable touch to your body.
5. Eco-friendly yoga block, made with thermal compounding process, without any glue or cracking.
Specifications of Color Matching EVA Yoga Block
| | |
| --- | --- |
| Product Name | Color Matching EVA Yoga Block |
| Features | Soft, comfortable, round, eco-friendly, waterproof, tear-resistant,no latex |
| Origin | China |
| Certifications | ISO 9001 |
| MOQ | 3 piece |
| Brand | Union Max |
| Net weight | 3*6*9 inch:200g |
| Price | $1.35/piece |
| Shape | Cuboid |
| Application | Indoor and outdoor exercise |
| Material | EVA |
| Usage | Yoga exercise |
| Size | 3*6*9 inch(7.2*15.2*22.8cm) |
| Custom Size & Logo & shape | Please contact us individually for customization |