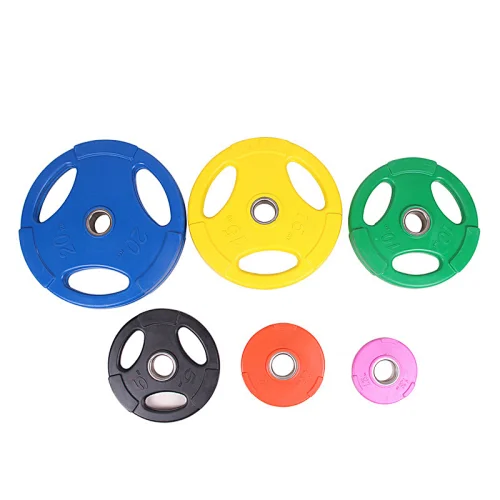 Color Rubber Tri Grip Weight Plates
price
US $1.99 / kilograms
Union Max Fitness offers 10+ years of export experience for color rubber tri-grip weight plates. Shop our selection of tri-grip weight plates for sale and get the best deals on premium-quality plates.
Description of Color Rubber Tri Grip Weight Plates
The Color Rubber Tri Grip Weight Plates come in six different specifications: 2.5kg, 5kg, 10kg, 15kg, 20kg, and 25kg. They are composed of iron and coated with a top-grade rubber material. The weight plates have a 50.4mm opening that is compatible with Olympic bars. To make it easy to identify the correct weight during training, we have assigned a unique color to each specification. Additionally, the weight plates are equipped with convenient handles that come with a stainless steel ring, making them versatile for various workouts.
Specifications of Color Rubber Tri Grip Weight Plates
| | |
| --- | --- |
| Product Name | Color Rubber Tri Grip Weight Plates |
| Origin | China |
| Certifications | ISO 9001 |
| MOQ | 500kg |
| Price | $1.99-2.45/kg |
| Packing | Carton |
| Usage | Build muscle |
| Application | Garage, gym and your home |
| Material | Iron and Rubber Coating |
| | | | | | | |
| --- | --- | --- | --- | --- | --- | --- |
| Size | 1.25kg | 2.5kg | 5kg | 10kg | 15kg | 20kg |
| Color | Pink | Orange | Black | Green | Yellow | Blue |
| Aperture | 50.4mm | 50.4mm | 50.4mm | 50.4mm | 50.4mm | 50.4mm |
| Diameter | 160mm | 200mm | 275mm | 320mm | 370mm | 420mm |
| Thickness | 15mm | 19mm | 24mm | 29mm | 36mm | 38mm |