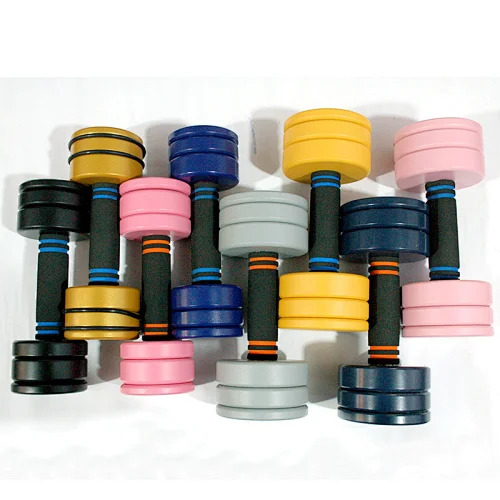 Color Steel Adjustable Electroplated Dumbbell
Adjustable Electroplated Dumbbell-4
Union Max Fitness specialize in manufacturing strength training products, including Color Steel Adjustable Electroplated Dumbbell of the highest quality. If you require this product, please do not hesitate to reach out to us.
Description of 

Color Steel Adjustable Electroplated Dumbbell
This color pure steel adjustable electroplating dumbbell can be assembled with dumbbell plates freely, and the appropriate weight can be achieved by adding or reducing dumbbell plates to meet different exercise needs. This dumbbell is small in size and is not easily restricted in storage and exercise. It is suitable for various fitness scenarios such as gyms, indoors, and outdoors.
Product Features of 

Color Steel Adjustable Electroplated Dumbbell
1.Pairs of Color Steel Adjustable Electroplated Dumbbells include 2 dumbbell bars, 4 anti-shedding rubber rings, and 6 adjustable dumbbell plates.
2.This electroplated dumbbell is made of high-quality pure steel material, which is more resistant to falling and wear. It is processed by lathe, and the surface is electroplated, which is more beautiful.
3.The loading and unloading thread adopts an integrated spiral design, which is convenient for loading and unloading. The dumbbells are locked layer by layer without loosening, and an anti-falling rubber ring is provided to protect the safety of users.
4.The black rubber non-slip handle used in this dumbbell can increase the user's grip, non-slip, scratch-resistant, wear-resistant, ergonomically designed, and comfortable to handle.
5.Sold in pairs, minimum order of 30 pairs.
6.Conventional carton packaging can also choose pallet packaging.
Specifications of Color Steel Adjustable Electroplated Dumbbell
| | |
| --- | --- |
| Product Name | Color Steel Adjustable Electroplated Dumbbell |
| Origin | China |
| Certifications | ISO 9001 |
| MOQ | 50 pairs |
| Price | $80.65-90.95/pair |
| Packing | Carton |
| Usage | Build muscle |
| Application | Gym and your home |
| Material | Steel |
| Finish | Electroplating Finish |
| Size | 20kg |
| DumbbellWeight | 10kg*2 |
| Color | Colorful |
| Sales model | Sold in pairs |