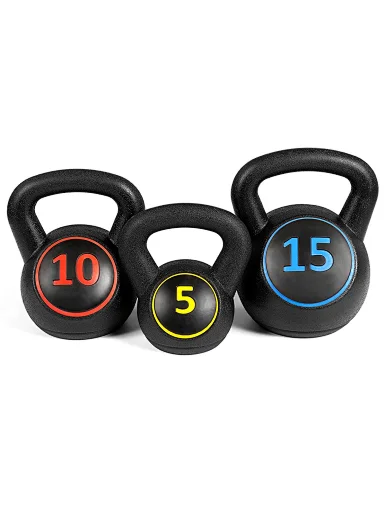 Colorful Vinyl Coated Cement Kettlebell Set
Looking for an excellent set of kettlebells for strength training? Check out our 30LB Economy vinyl coated cement kettlebell Set for top-notch quality. Contact us for more information.
Description of Vinyl Coated Cement Kettlebell Set
This cement kettlebell set is perfect for any home fitness enthusiast. It comes with three different sizes, 5LB, 10LB, and 15LB, and a convenient storage tray. This set is ideal for anyone looking to build strength and reach their fitness goals.
Product Features of Vinyl Coated Cement Kettlebell Set
1. This 30LB cement kettlebell training set contains 3 different sizes of cement kettlebells: 5LB, 10 LB , and 15 LB, and comes with a storage tray.
2. Filled with cement, these vinyl coated cement kettlebells are a more economical option and feature a protective PE shell to prevent abrasion.
3. The storage tray is made of PP, which is convenient for you into take the kettlebell in use and makes your fitness area look tidier.
4. The handle of the cement kettlebell has a smoother surface, allowing for exercises that do not irritate the hands.
5. Sold as a set, with a minimum order of 30 sets.
6. Conventional carton packaging can also choose pallet packaging.
Specifications for Vinyl Coated Cement Kettlebell Set
| | |
| --- | --- |
| Product Name | Vinyl Coated Cement Kettlebell Set |
| Origin | China |
| Certifications | ISO 9001 |
| MOQ | 30 sets |
| Price | $17.45-20.35/set |
| Packing | Carton |
| Usage | Build muscle |
| Application | Gym and your home |
| Kettlebell Material | Cement and PE Shell |
| Storage Tray Material | pp |
| Storage Tray Size | 52cm L x 23cm W |
| | | | |
| --- | --- | --- | --- |
| Kettlebell Size | 5LB | 10LB | 15LB |
| Color | Yellow | Red | Blue |
| Length | 170mm | 190mm | 200mm |
| High | 190mm | 230mm | 250mm |