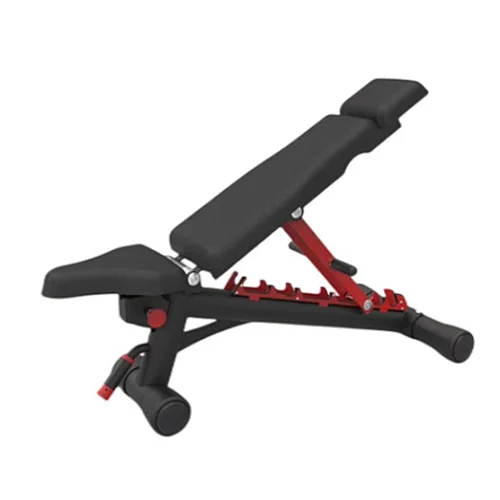 Commercial Multifunctional Dumbbell Bench
Commercial Multifunctional Dumbbell Bench-1
Union Max Fitness is a factory specializing in the production of Commercial Multifunctional Dumbbell Benches. If you are interested, please contact us for more information and to place an order.
Description of Commercial Multifunctional Dumbbell Bench
The commercial multifunctional dumbbell bench is one of the most effective weight training exercises, and a great option for those new to strength training. The commercial multifunctional dumbbell bench is incredibly versatile, offering adjustable incline and decline options. The bench features thickened pipes and high-strength capacity, capable of handling up to 500kg, making it an ideal choice for commercial fitness facilities such as gyms. The adjustable back pad offers various angles for comfortable and effective workouts, and the pull pin design allows for convenient adjustments. This piece of equipment is perfect for exercises such as the dumbbell press, dumbbell fly, one-arm curl, and more.
Product Features of Commercial Multifunctional Dumbbell Bench
1.The support frame of this dumbbell bench is built with high-quality pipes and an extra-thick design that measures up to 3.0mm in thickness. The main beam steel frame ensures maximum stability and helps prevent shaking, creating a safe and secure exercise environment.
2. Equipped with adjustable pull pins and stainless steel bearings without gaps, this dumbbell bench is incredibly versatile, allowing for easy adjustment with just one click. The adjustable design offers multiple angles to meet your specific workout needs.
3. The facade of this dumbbell bench is designed with flat leather grain leather and a frosted surface that provides a leather-like feel. Combined with a three-dimensional design and thickened and widened cushions, this bench provides comfort and breathability while also being wear-resistant and durable.
4. The handles of this dumbbell bench are designed for easy mobility and comfortable grip wrapping. The bench also features a reliable folding design that makes it easy to store and saves space.
5. The multi-functional down-slope design of this dumbbell bench offers a -10° incline and features a thickened reclining board that creates a more comfortable exercise experience.
6. This dumbbell bench is suitable for both commercial and household use and is all set and ready to go. With its excellent quality and appearance, heavy-duty construction, and multi-point load-bearing capacity, this bench is both safe and stable, able to hold up to 500kg.
7. Featuring a thickened sawtooth plate and laser cutting combination, this dumbbell bench is adjustable in height to meet various sports needs, making it a versatile and valuable addition to any workout routine.
Specifications of Commercial Multifunctional Dumbbell Bench
| | |
| --- | --- |
| Product Name | Commercial Multifunctional Dumbbell Bench |
| Origin | China |
| Certifications | ISO 9001 |
| Brand | Union Max |
| MOQ | 1 piece |
| Price | $171.43-186.67/piece |
| Packing | Cartons |
| Material | Steel Pipe |
| TubeThickness | 3.0mm |
| ProductWeight | 46KG |
| Color | Black |
| LoadBearing | 500kg |
| Size | 125*40*45cm |
| Applicable | Home, Office, Gym |