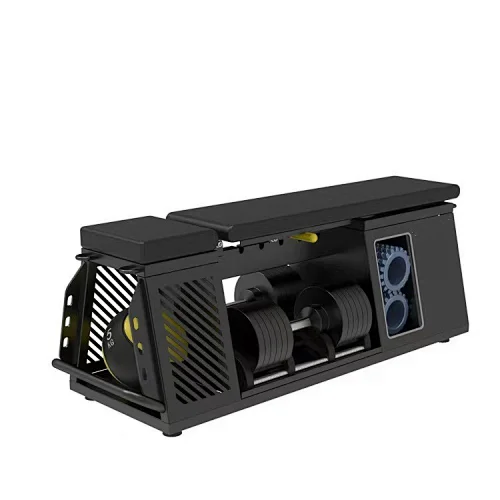 Commercial Multifunctional Dumbbell Box
Commercial Multifunctional Dumbbell Box-1
Union Max Fitness is a factory that specializes in producing Commercial Multifunctional Dumbbell Boxes. If you require such a product, please feel free to get in touch with us.
Description of Commercial Multifunctional Dumbbell Box
This dumbbell box is a commercial-grade multi-functional dumbbell box, which can also be used for fitness training while being stored and stored. The professional and innovative design concept allows users to use this equipment in a more comfortable way, so as to obtain a more powerful exercise efficiency. There are two types of dumbbell boxes, the optional multi-accessory integrated, that is, a full box, or a single box. The equipment is made of high-quality steel, with strong bearing capacity, wear-resistant and durable, and can be described as a good helper for home storage and fitness.
Product Features of Commercial Multifunctional Dumbbell Box
1. The dumbbell bench is designed in the shape of a ladder according to the mechanical principle, and the legs are inclined.
2. High-quality leather cushions, sweat-absorbing and breathable; multi-speed adjustment, free to change the backrest angle (90-180°).
3. The interior has a large storage space, and the accessories are neatly arranged for reasonable storage; the circular non-slip base design, no matter how slippery the floor is, is as stable as Mount Tai.
4. Small footprint, easy to store/move; unique wheel hub design, easy and effortless, easy to lift and go.
5. Selected high-quality steel pipe material, safe and durable.
6. Can be matched with a variety of training accessories: dumbbells (a variety of weights, stable and not loose, to meet different training needs); kettlebells (texture non-slip, high-quality steel, inner core pure iron casting, high strength, long service life) foam shaft (3D Muscle texture, comfortable without stinging, deep massage) medicine ball (thickened barrier, elastic soft shell, not easy to split, beautiful and anti-scratch) tension rope (high elasticity and compression, soft and comfortable, not easy to deform) dumbbell tray (high-density Plastic, stainless steel tube process, fixed dumbbells to protect the floor).
Specifications of Commercial Multifunctional Dumbbell Box
| | |
| --- | --- |
| Product Name | Commercial Multifunctional Dumbbell Box |
| Origin | China |
| Certifications | ISO 9001 |
| Brand | Union Max |
| MOQ | 1 piece |
| Price | $262.86-491.43/piece |
| Packing | Cartons |
| Material | Steel |
| Size | 1325*424*482mm |
| Color | Black |
| G.W | 44kg |
| Load Bearing | 150kg |
| Applicable | Home, Office, Gym |
| Usage | Fitness |