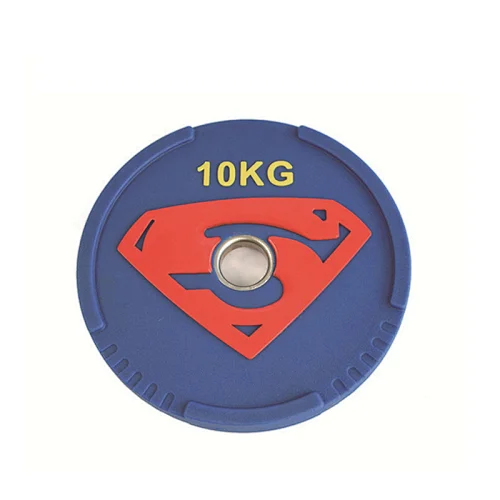 CPU Weight Plate
price
US $4.25 / kilograms
Union Max Fitness is your source for premium quality CPU Weight Plates. With over 10 years of export experience, we offer a wide variety of weight plates designed to help you reach your fitness goals in no time. Shop our selection today and enjoy free shipping on all orders!
Description of CPU Weight Plate
A CPU weight plate is a type of weight plate that is made from polyurethane. CPU stands for "Cast Polyurethane."  CPU weight plates are designed to be durable and long-lasting, and they are also resistant to chipping, cracking, and peeling. CPU weight plates are often used in commercial gyms and fitness centers, as they can withstand heavy use.
Product Features of CPU Weight Plate
1.This CPU Weight Plate is available in 5 sizes: 5kg, 10kg, 15kg, 20kg, and 25kg.
2.The material of this product is a high-quality cast iron core with a CPU coating on the outside.
3.The weight plates feature a stylish colorful finish, Superman-inspired graphics, and a raised yellow-weight logo for easy identification.
4.This weight plate has a stainless steel rim of 50mm that accommodates a standard-size Olympic bar and slides in and out of the Olympic bar with ease.
5.You can buy them individually, in pairs, or as a set, and you can mix and match any size to suit your needs.
6.Conventional carton packaging can also choose pallet packaging.
Specifications of CPU Weight Plate
| | |
| --- | --- |
| Product Name | CPU Weight Plate |
| Origin | China |
| Certifications | ISO 9001 |
| MOQ | 500kg |
| Price | $4.25-6.75/kg |
| Packing | Carton |
| Usage | Build muscle |
| Application | Gym and your home |
| Type | Captain America Style |
| Material | Cast Iron and CPU |
| Size | 5kg, 10kg, 15kg, 20kg, 25kg. |
| Color | Red and Blue |