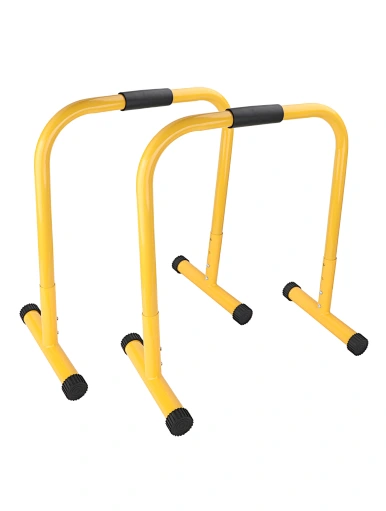 Dip Bars
Union Max Fitness specializes in home workout products including the highest quality Dip Bars. If you need this product, please feel free to contact us.
Description of Dip Bars
Bold split single and parallel bars, activate the muscles of the whole body, let you exercise at home can also activate the muscles of the whole body, exercise your arm strength, abdominal muscles, etc., so that you have a new fitness experience.
Product Feature of Dip Bars
1.Split single and parallel bars provide versatile strength training.
2.This product uses your own body weight as resistance to work your arms, chest, back and core muscles.
3.It is able to use a wide range of widths and angles, which is not possible on ordinary stationary dipping machines.
4.Its small footprint makes it easy to integrate into any home gym environment.
5.The product is made of heavy-duty steel pipe, stainless steel nut, and rubber anti-skid foot cover. The material is stable and more secure.
6.Use a large-area base and thick bottom tube, so you can use it without tipping over.
Specifications of Dip Bars
| | |
| --- | --- |
| Product Name | Dip Bars |
| Origin | China |
| Brand | Union Max |
| Certifications | ISO 9001 |
| Material | Steel tube, Foam |
| MOQ | 30pcs |
| Price | $17.4/Piece |
| Size | 62*46*85cm |
| Weight | 7.5kg |
| Weight Capacity | 120kg |
| Steel Thickness | 1.5mm |
| Packing | Carton |
| Carton Size | 78*67*9.5cm |
| Color | Black, Yellow, Pink |
| Usage | Exercise Your Hand Muscles |
| Application | Home, Gym, Outdoors |