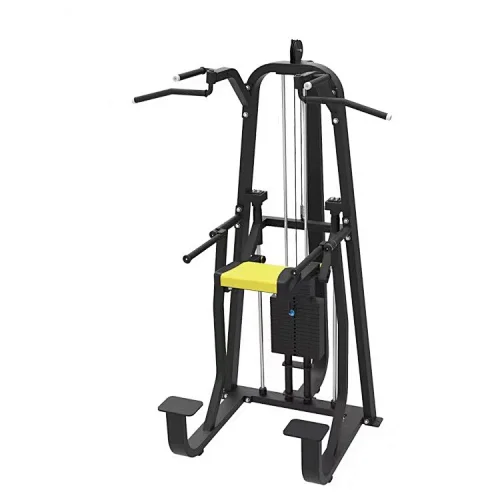 Dip Chin Assist
If you are in need of Dip Chin Assist equipment, Union Max Fitness is the manufacturing factory to contact. Feel free to reach out to us with any inquiries regarding our products.
Description of Dip Chin Assist
When practicing single and parallel bars, you can exercise muscles, increase muscle strength, and enhance muscle explosive power; it can reduce fat and lose weight, enhance lung capacity, and speed up the metabolism in the body. These power-assisted single and parallel bars make outdoor sports indoors and improve the efficiency of exercise; the unique small space design gives users a comfortable sports experience; commercial quality and exquisite craftsmanship provide users with high-quality products.
Product Features of Dip Chin Assist
1.Thickened and thickened pipes, the main structure adopts national standard square steel pipes, which are sturdy and durable.
2.Made of high-quality PU leather cushions, filled with foam inside, widened and thickened cushions to improve comfort, wear-resistant and durable, waterproof and sweat-proof, comfortable and breathable.
3.Insert-type counterweight, stainless steel material, anti-fall and anti-smashing, adjustable design, adjust according to your own needs, easy operation, more free movement.
4.High-quality pulley set with thick steel wire rope, coupled with precision bearing rotation, stronger bearing capacity, smoother movement, and no stuck, creating a comfortable sports experience.
5.Auxiliary pedals, anti-skid protection, safer movement.
6.Advanced seamless welding technology ensures a stable connection between steel pipes and a beautiful appearance.
7.The anti-slip foot pad design at the bottom increases the friction between the equipment and the ground and effectively protects the ground.
Specifications of Dip Chin Assist
| | |
| --- | --- |
| Product Name | Dip Chin Assist |
| Origin | China |
| Certifications | ISO 9001 |
| Brand | Union Max |
| MOQ | 1 piece |
| Price | $723.62-895.05/piece |
| Packing | Cartons |
| Material | Steel |
| Size | 1550*1370*2360mm |
| Color | Black |
| G.W | 289kg |
| Applicable | Home, Office, Gym |
| Usage | Fitness |