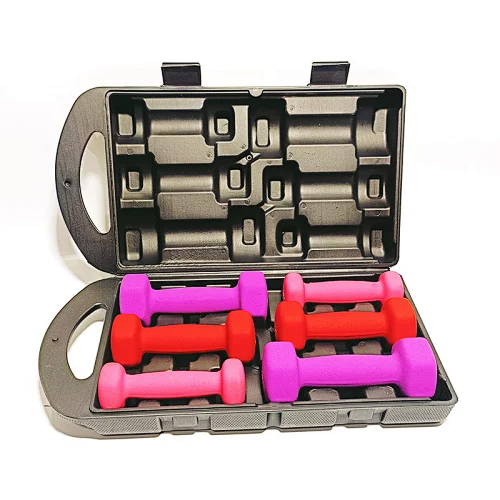 Dipped Dumbbell Gift Box Set
Union Max Fitness specialize in manufacturing strength training products, including Dipped Dumbbell Gift Box Set of the highest quality. If you require this product, please do not hesitate to reach out to us.
Description of

 

Hexagon Dipped Dumbbell Gift Box Set
The benefits of dipped dumbbell workouts include building muscle, improving core strength, enhancing balance, providing better bone health, burning calories, increasing energy levels, and more.
Product Features of 

Hexagon Dipped Dumbbell Gift Box Set
1.The color dipped plastic dumbbell gift box set has three specifications of 6kg, 10kg and 12kg, and comes with a beautiful storage gift box.
2.The durable cast iron core is covered with a thick PVC coating for a secure and comfortable grip.
3.This dumbbell has a frosted finish, which can prevent users from losing their hands due to sweating during exercise, which greatly improves the safety performance of the dumbbells.
4.The hexagonal design of the dumbbells prevents them from rolling and increases the stability of the dumbbells.
5.Color-coded for easy identification, This will allow you to quickly find the size you want.
6.It is durable, safe, and comfortable.
7.Sold as a set, with a minimum order of 30 sets.
8.Conventional carton packaging can also choose pallet packaging.
Specifications of

Hexagon Dipped Dumbbell Gift Box Set
| | |
| --- | --- |
| Product Name | Hexagon Dipped Dumbbell Gift Box Set |
| Origin | China |
| Certifications | ISO 9001 |
| MOQ | 50 sets |
| Price | $25.45-35.95/set |
| Packing | Gift Box |
| Usage | Build muscle |
| Application | Gym and your home |
| Type | Hexagon |
| Size | 6kg, 10kg, 12kg |
| Material | CastIron and PVC Dipped |
| Color | Green, Red and Blue, etc |
| Finish | Matte |
| Sales model | Sold in sets |