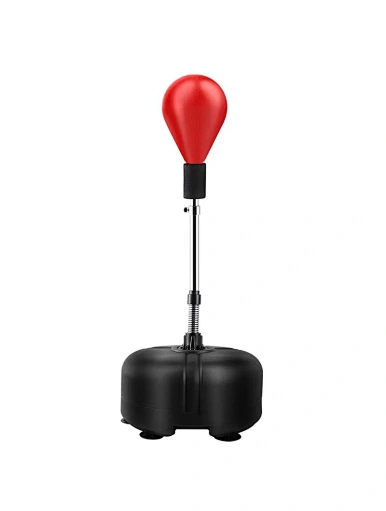 Drop Boxing Speed Ball
We can provide high-quality drop boxing speed ball, if you need them, you can contact us.
Description of Drop Boxing Speed Ball
A boxing speed ball is one of the auxiliary equipment for boxing practice. It can cultivate athletes' attention, reaction speed, speed, and accuracy of punching movements, as well as the flexibility of shoulder, arm, elbow, wrist, and other joints and the strength of the entire upper body. And endurance, etc., have a great effect. Therefore, boxing speed ball is a specialized auxiliary sport that every boxer should practice and master.Tumbler reaction target does not occupy a lot of space, is movable, very convenient, and is a good helper for home sports.
Product Features of Drop Boxing Speed Ball
1. The PU solid ball is integrally formed, has a good hand feeling, imitates the human body, has strong impact resistance, and is not easy to deform.
2. Stainless steel regulator, safety lock does not fall off, better protect your health and safety.
3. 7mm thick reinforced spring, effectively ensures a 90% rebound effect, shock absorption, and mute.
4. The injection-molded base can be filled with water and sand. The base is stable as a rock, not easy to be knocked down, and exercise is safer. (It is recommended to pack sand for better effect)
5. 6 strong suction cups, firmly suck the ground, a stable upgrade that is not easy to fall, suitable for any ground.
6. The height can be adjusted arbitrarily to 120-160cm; knob adjustment, is easy to lift.
Specifications of Drop Boxing Speed Ball
Product Name

Drop Boxing Speed Ball

Origin

China

Certifications

ISO 9001

Brand

Union Max

MOQ

10 pieces

Price

$21.90-63.81/piece

Packing

Carton

Material

PU

Color

Black and Red

Size

120-160cm

Base Wid

th

50cm

Ground

All

U

sage

Boxing Training