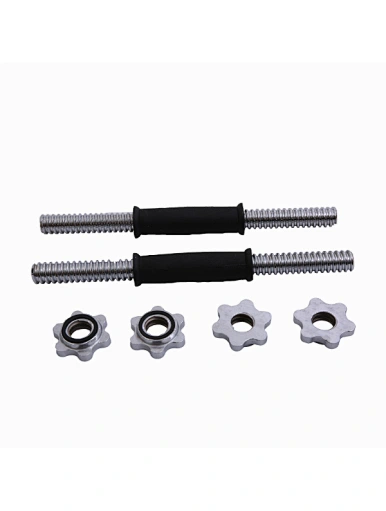 Dumbbell Bar with Black Rubber Handle
Union Max Fitness specialize in dumbbell bars including Dumbbell Bar with Black Rubber Handle of the highest quality. If you require this product, please do not hesitate to reach out to us.
Description of

 Dumbbell Bar with Black Rubber Handle
This dumbbell bar can develop specific muscle groups by assembling dumbbell plates of different weights. It has an ergonomic rubber handle design for a non-slip grip. The use of the dumbbell bar is simple and easy to operate, whether you are a beginner or a professional fitness professional, you can easily integrate it into your fitness activities.
Product Features of

 Dumbbell Bar with Black Rubber Handle
1. Dumbbell Bars with Rubber Handle sizes are 300mm, 340mm, and 400mm.
2. Each dumbbell bar is equipped with two apron nuts for easy loading and unloading without loosening.
3. This dumbbell bar is made of high-quality cast iron, and the outer plating layer is made of a high-quality electroplating process, which is finely crafted and not easy to wear.
4. The middle grip part of this dumbbell bar has a black rubber coating to make the grip more comfortable, and it is non-slip to prevent it from falling out of the hands during use.
5. Sold individually or in pairs.
6. Conventional carton packaging can also choose pallet packaging.
Specifications of

 Dumbbell Bar with Black Rubber Handle
| | |
| --- | --- |
| Product Name | Dumbbell Bar with Black Rubber Handle |
| Origin | China |
| Certifications | ISO 9001 |
| MOQ | 30pairs |
| Price | $8.95-15.45/piece |
| Packing | Carton |
| Usage | Loading and Unloading Dumbbell Plates |
| Application | Gym and your home |
| Material | Cast Iron and Rubber |
| Finish | Electroplated |
| Size | 300mm,340mm or 400mm |
| Color | Silver and Black |
| Sales model | Sold individually or in pairs |