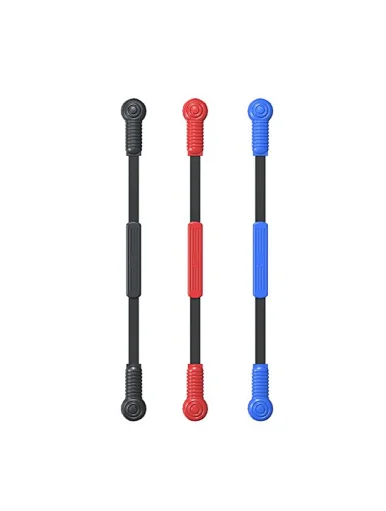 Elastic Fitness Bar
Union Max Fitness specializes in home workout products including the highest quality Elastic Fitness Bar. If you need this product, please feel free to contact us.
Description of Elastic Fitness Bar
The second generation of the newly improved Elastic Fitness Bar is part forearm exercise device and fitness stabilizer bar, a new home fitness product that helps users lose weight, tone and build muscle. It helps strengthen and tone the whole body, providing recovery and overall health.
Product Feature of Elastic Fitness Bar
1. Shake and shake to lose weight. Based on the principle of resonance, the multifunctional Felix rod acts on the deep muscles of the body, and exercises the muscle fibers in a short and efficient time.
2. It can strongly shape the arm muscles to achieve the effect of fitness, shaping, reducing belly fat and burning fat.
3.12hz high-frequency resonance enables muscles to achieve comprehensive exercise in a short time.
4. The material is made of high-density glass fiber material, which is integrally formed, which is tougher and firmer.
5. Prevent breakage, durable, safe and secure.
6.Red, and black are available in two colors, and the classics are more than black and white.
Specifications of Elastic Fitness Bar
| | |
| --- | --- |
| Product Name | Elastic Fitness Bar |
| Origin | China |
| Brand | Union Max |
| Certifications | ISO 9001 |
| Material | Glass Fibre, TPR |
| MOQ | 500pcs |
| Price | $1.7/Piece |
| Size | 160cm |
| Weight | 98g |
| Packing | Carton |
| Carton Size | 95.5*41*25.5cm |
| Color | Red, Black |
| Usage | Exercise Your Hand Muscles |
| Application | Home, Gym, Outdoors |