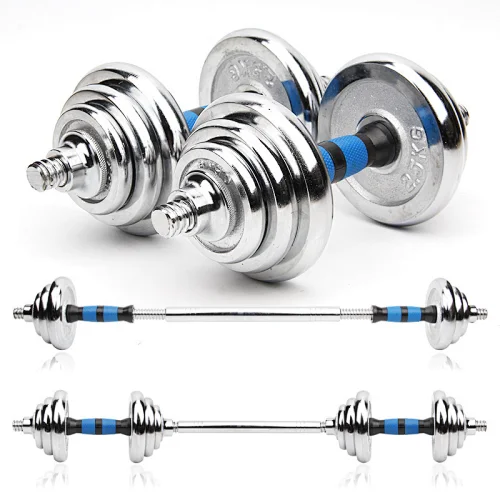 Electroplated Dumbbell Set
Union Max Fitness specialize in manufacturing strength training products, including Electroplated Dumbbell Set of the highest quality. If you require this product, please do not hesitate to reach out to us.
Description of 

Electroplated Dumbbell
Plated dumbbells are widely used in the gym and at home for a variety of workouts, with the goal of working the whole body or specific muscle groups. This plated dumbbell can be used to work the shoulders, arms, chest, back and leg muscles.
Product Features of Electroplated Dumbbell
1.Pairs of electroplated dumbbells contain two dumbbell bars, four rotating screws and several adjustable dumbbell plates.
2.This electroplated dumbbell is made of high-quality cast iron material, which is more resistant to falling and wear.
3.Machined by lathe, the surface is treated with electroplating, which is more beautiful.
4.The high density of high-quality materials makes the dumbbells compact and more convenient for various fitness movements.
5.To improve grip comfort, the rubberized handle of the dumbbell bar increases friction, which is ergonomic, comfortable and powerful.
6.Sold in pairs, minimum order of 30 Sets.
7.Conventional carton packaging can also choose pallet packaging.
Specifications of Electroplated Dumbbell
| | |
| --- | --- |
| Product Name | Electroplated Dumbbell |
| Origin | China |
| Certifications | ISO 9001 |
| MOQ | 30 pairs |
| Price | $43.65-49.95/Sets |
| Packing | Carton |
| Usage | Build muscle |
| Application | Gym and your home |
| Material | CastIron |
| Finish | ElectroplatingFinish |
| Size | 20kg |
| DumbbellPlate Weight | 0.5kg*4, 1.25kg*4, 2.5kg*4 |
| Color | Silver |
| Sales model | Sold in Sets |