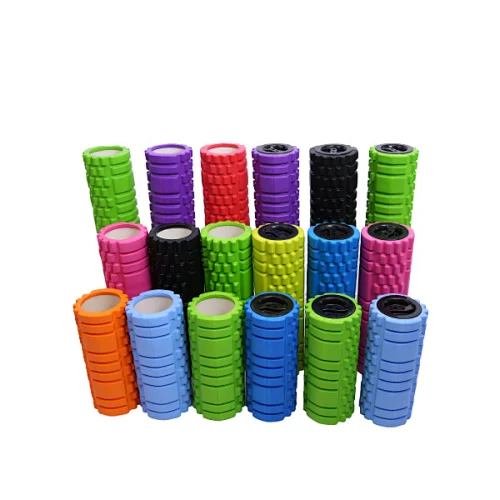 EVA Yoga Foam Roller
Union Max Fitness specializes in the manufacture of Yoga and Pilates products including the highest quality EVA Yoga Foam Roller. If you need this product, please feel free to contact us.
Description of EVA Yoga Foam Roller
The hollow EVA yoga foam roller with raised surface massage floating point, also known as grid yoga roller. The material is soft and hard with good toughness and resilience. The design of the massage bumps makes the yoga column more powerful, and the experience of use increases linearly. The surface adopts massage bumps, no dead angle massage, foam rolling sore muscles, foam roller for hip and lower back pain, and foam roller shoulder. For fitness yoga practitioners, it is a myofascial foam roller.
The myofascial foam roller is made of environmentally friendly EVA, with moderate elasticity and comfort. It is recommended whether your pain is sensitive or dull. The shaft is made of high-polymer PVC material, and the load-bearing capacity is super nice.
We also have multi-size specifications, different lengths, and diameters, regardless of age and height restrictions, it is suitable for adults, teenagers, children, men, and women.
How to choose an EVA Yoga Foam Roller?
The users of the grid yoga rollers are on three levels:
1. beginners;
2. advanced users;
3. and senior players.
For the beginner, it is recommended to use a yoga roller with flat bumps.
For advanced people, we recommend using an upgrade version of flat bumps + strength bumps yoga rollers.
Senior players can choose a wolf's tooth yoga column. The convex and concave degree is the largest, and the intensity is the largest, suitable for senior practitioners or yoga teachers.
The more uneven the surface, the better the muscles relax.
How to clean EVA Yoga Foam Rollers?
For Adopting the new technology of edging, the EVA foam yoga column edges are smooth, neat, and durable.
For overall injection molding, the appearance of the roller has no gaps.
If the foam roller gets dirty, you can wipe it with a wet paper towel.
Specifications of EVA Yoga Foam Roller
| | |
| --- | --- |
| Product Name | EVA Yoga Foam Roller |
| Features | Strong, Durable, Heavy Duty, Massage |
| Origin | China |
| Certifications | ISO 9001 |
| MOQ | 2 piece |
| Brand | Union Max |
| Price | $1.24-2.48piece |
| Color | Black, pink, light blue, dark blue, purple,green, yellow,orange |
| Shape | Cylinder, hollow roller |
| Application | Indoor and outdoor exercise |
| Material | EVA+PVC |
| Usage | Yoga exercise and Pilates exercise |
| Size(Length*Diameter) | 30*8cm/33*13cm/45*13cm |
| Custom Size & Logo & shape | Please contact us individually for customization |