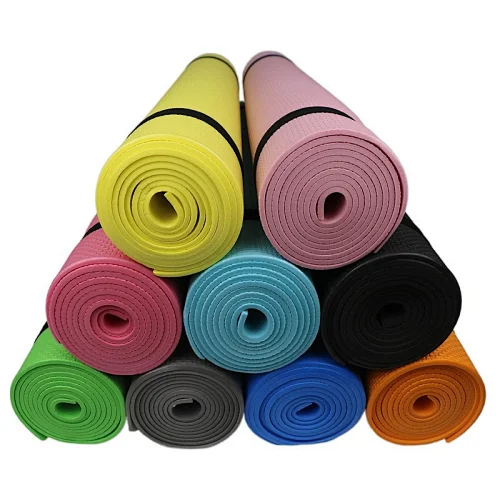 EVA Yoga Mat
Union Max Fitness specializes in the manufacture of Yoga and Pilates products including the highest quality EVA Yoga Mat. If you need this product, please feel free to contact us.
Description of EVA Yoga Mat
EVA Yoga Mat manufactured in China is the most affordable, with good quality at an ultra-low price, strong water resistance, and corrosion resistance.
First, the water-resistant properties make this yoga mat non-absorbent, so you don't have to worry about sweat soaking into the yoga mat during exercise and causing odor, let alone cleaning problems. This yoga mat can be directly soaked and washed, clean and stress-free.
Secondly, the corrosion resistance can prolong its service life, so you can use it confidently indoors or outdoors.
EVA makes the yoga mat stiffer, and the ground feels stronger. If you are not used to soft yoga mats, this yoga mat will be a good choice. Our yoga mat is designed with two different anti-slip patterns. These are single-color, double-color, printing, camouflage, etc., and more than a dozen different styles are available.
In addition to the international standard size, we have newly launched a longer and wider yoga mat for men, and a mini yoga mat for children, allowing exercise regardless of age.
At the same time, we have our own brand design and support customizing your brand and your favorite patterns, come and contact us for free.
Specifications of EVA Yoga Mat
Product Name

EVA yoga mat

Origin

China

Certifications

ISO 9001

MOQ

10 piece

Brand

Union Max Fitness

Accessories

Color cards, net bags, straps

Price

$0.75-4/piece

Color

Yellow, light pink, dark pink, light blue, dark blue, black, gray, green, orange

Packing

Stretch film + carton packaging

Application

Indoor and outdoor exercise

Material

EVA

Feature

Latex-free

Usage

Yoga exercise

Size(L*W*T)

165cm*56cm*/3/4/6/8mm

173cm* 61cm *3/4/5/6/8/10mm

183cm* 61cm *7/10mm

190cm*90cm*7/10mm