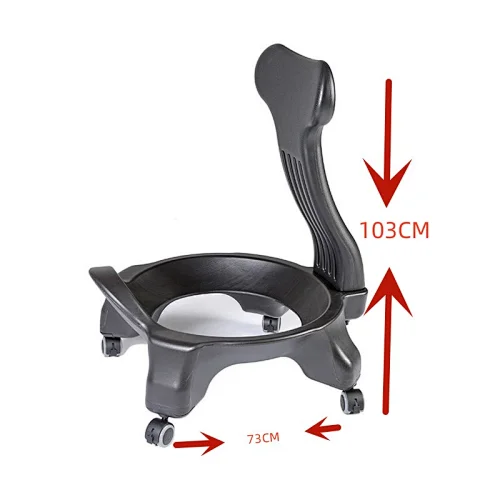 Exercise Ball Chair with 55CM Ball
Union Max Fitness specializes in the manufacture of Yoga and Pilates products including the highest-quality Exercise Ball Chair. If you need this product, please feel free to contact us.
Description of Exercise Ball Chair
This Exercise Ball Chair is suitable for installing a 55CM yoga ball, and you can choose to bring accessories or not. Accessories include: 55CM yoga ball, air pump, air puller, air plug.
The yoga ball is fixed on the Exercise Ball Chair, so it is very stable. The sitting posture can be improved through the elasticity of the yoga ball, and at the same time, it will not feel numb due to long-term sitting. Redefine sitting posture and relieve pain caused by common office chairs, our chairs are designed to strengthen your core and help with spinal alignment by forcing you to maintain balance. Stability reduces body aches and discomfort from sitting for long periods of time.
The removable backrest turns our chair into a more ambitious sitting experience where you can further engage your core and challenge poses. Lockable wheels for security and traction control, or can be left unlocked so you can roll in your new favorite chair. Our Balance Ball Chair is a practical way to sit all day and activate your core without doing crunches.
He's a versatile fitness must-have for your office desk.
Specifications of Exercise Ball Chair
Product Name

Exercise Ball Chair

Origin

China

Certifications

ISO 9001

MOQ

1 piece

Brand

Union Max Fitness

Net weight

4.7kg

Price

$23.73-28.89/piece

Color

Chair:Black

Yoga Ball:Purple, White, Silver, Red, Pink, Blue, Green

Application

Indoor and outdoor exercise

Material

HDPE

Usage

Yoga & Pilates exercise

Size

103*73CM

Custom Size & Logo & shape

Please contact us individually for customization