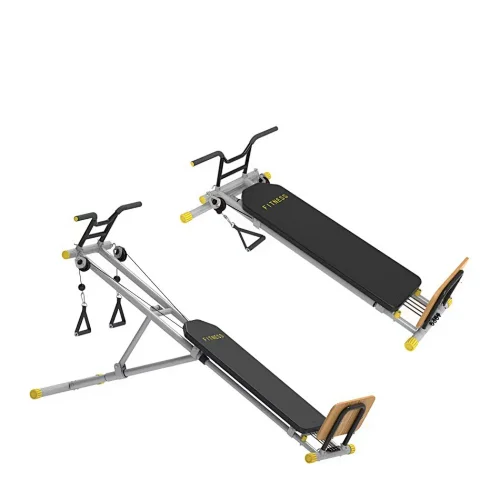 Fit Ultimate Exercise Machine
Fit Ultimate Exercise Machine-1
Union Max Fitness is the production factory for the Fit Ultimate Exercise Machine. If you are interested in our products, please do not hesitate to contact us.
Description of Fit Ultimate Exercise Machine
The fit ultimate exercise machine, also known as the weight-bearing puller, includes handles, pulleys, ropes, and other equipment. The equipment is ergonomically designed and can be adjusted in multiple gears (0-35°), with more comprehensive functions to meet the strength and aerobic training of different groups of people. , to achieve a variety of training actions. The utility model has the advantages of simple structure, small volume, no limitation of site and time, convenient handling, easy operation, and wide application range, and is a necessary fitness and rehabilitation equipment for professional sports teams.
Product Features of Fit Ultimate Exercise Machine
1. Thickened and thickened pipes, triangular stable structure, maximum load-bearing 130kg, strong load-bearing.
2. The bottom is equipped with a non-slip threaded rubber sleeve, which is non-slip and wear-resistant, which improves the safety of sports without hurting the floor.
3. Multi-speed, and multi-resistance can be adjusted, free adjustment is simple and convenient.
4. Meet your own sports needs, give a better sports experience, a variety of training movements, and exercise the muscles of the whole body.
5. Multi-dimensional folding, easy to store, does not take up space.
6. Move easily, break space constraints, and exercise anytime, anywhere.
7. The resistance nylon rope installation can be installed according to your situation. The more installations, the greater the resistance.
Specifications of Fit Ultimate Exercise Machine
| | |
| --- | --- |
| Product Name | Fit Ultimate Exercise Machine |
| Origin | China |
| Certifications | ISO 9001 |
| Brand | Union Max |
| MOQ | piece |
| Price | $148.57-186.67/piece |
| Packing | Cartons |
| Material | Steel |
| Size | 1450*800*540mm |
| Color | Silver Grey |
| Load Bearing | 130kg |
| G.W | 31kg |
| Applicable | Home, Office, Gym |
| Usage | Fitness |