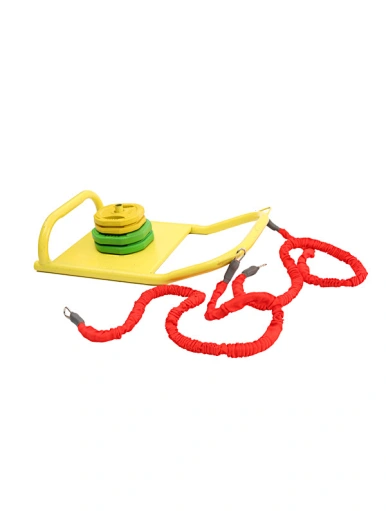 Fitness Sled
Union Max Fitness manufactures core exercise products including the highest quality Fitness Sled. If you need this product, please feel free to contact us.
Description of Fitness Sled
The most common way to use Fitness Sled is"push"exercise. You need to drive the sled through your legs. When you walk long distances at a constant speed, it will be very useful for your strength and endurance training."Pushing"the Fitness Sled activates your core, quads, glutes, and calves, which are key muscle groups when you run. When you increase the weight of the Fitness Sled, this training can also help you improve your strength, which is especially helpful for marathon races on mountain roads.
Product Features of Fitness Sled
1. Precision welding technology, strong and durable, safer movement.
2. The webbing belt can be buckled to carry out shoulder traction training and exercise all parts of the body.
3. The set includes: load-bearing cart *1 (3.87KG) + physical tension rope *2 (300*2) * + shoulder belt *1 (170g) + safety belt *1 (40g)
4. Physical strength tension rope*: single 1.5m long, resistance about 55 pounds, 2 weight 600g
Specifications of Fitness Sled
| | |
| --- | --- |
| Product Name | Fitness Sled |
| Origin | China |
| Brand | Union Max Fitness |
| Certifications | ISO 9001 |
| Material | Iron |
| MOQ | 5 |
| NetWeight | 4KG |
| Size | 58*40cm |
| Color | Yellow |
| Packing | Carton, PP bag |
| Price | $37.14/piece |
| Usage | Workout, Lose Weight |
| Logo | Custom |
| Application | Home, Gym, Outdoor Exercise |