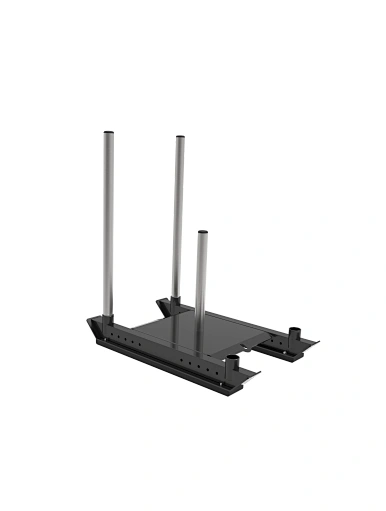 Fitness Training Sled
Union Max Fitness offers high-quality Fitness Training Sleds and welcomes inquiries from interested parties. Simply get in touch with us to learn more about our products and services.
Description of Fitness Training Sled
The fitness sled, also known as the tank-type resistance skid, offers versatile training options such as pulling, pushing, crawling, or sprinting. Its multiple training methods make it suitable for users of all fitness levels. Weight training on the sled can target several muscle groups in the body, offering comprehensive functional training for endurance, speed, explosiveness, flexibility, coordination, and agility. The sled is easy to use, saves space, and adds a touch of individual style to your workout. Its design is fashionable and functional, with tailored features that make it an ideal fitness equipment for achieving fitness goals.
Product Features of Fitness Training Sled
1.Thickened steel plate design, reinforced tube wall, and high-strength load-bearing make the fitness sled strong and stable. It is resistant to deformation and effectively prevents breakage, ensuring durability and reliability during construction.
2. The fitness sled is formed at high temperatures and finished with baking paint, making it beautiful and atmospheric. It is available in various specifications, providing users with a range of options to choose from.
3. Using unique welding technology and high-strength fasteners, the sled is resistant to breakage and hardware loosening. This feature ensures optimal performance and longevity, while avoiding product breakage.
4. With leash hooks designed at the front and rear, the fitness sled offers multiple training methods. Users can perform various exercises on the sled, preventing them from getting bored or demotivated by single training methods.
5. The weight-bearing design can be adjusted to cater to different user groups' training needs. Additionally, this design ensures a clean and tidy sports environment, enhancing the user's workout experience.
Specifications of Fitness Training Sled
| | |
| --- | --- |
| Product Name | Fitness Training Sled |
| Origin | China |
| Certifications | ISO 9001 |
| Brand | Union Max |
| MOQ | 10 pieces |
| Price | $129.52-152.38/piece |
| Packing | Cartons |
| Material | Steel |
| Size | 460*730*150mm |
| Tube Size | 80*50*2.5mm |
| Steel Thickness | 5mm |
| Color | Black |
| G.W | 46.5kg |
| Applicable | Home, Office, Gym |
| Usage | Fitness |