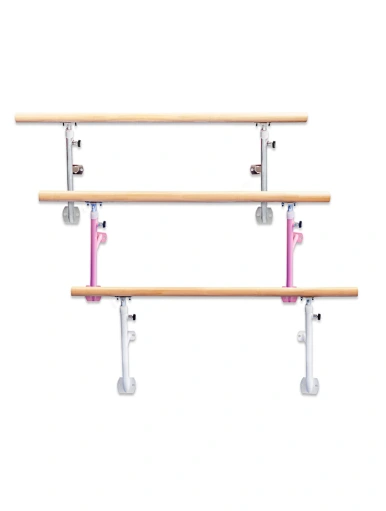 Fixed Ballet Barre
Union Max Fitness specializes in sports training products including the highest quality Fixed Ballet Barre. If you need this product, please feel free to contact us.
Description of

Fixed Ballet Barre
A fixed ballet bar is a dance pole designed for permanent installation in a dance studio, gym, or other training facility. It is usually made of steel and is firmly fixed to the floor or wall, ensuring that it can support the weight of multiple dancers at once. Bars are usually at waist or hip height so dancers can rest their hands on them as they perform various exercises, stretches and warm-ups, providing dancers with stable and reliable support so they can focus on perfecting their technique and form.
Product Features of

Fixed Ballet Barre
1. The mop adopts a U-shaped groove design, which fits the roundness of the handle bar to make the combination more stable.
2. Thickened and lengthened expansion screws are strong and durable, enhancing the stability of the bar.
3. The surface of the pole is treated with varnish, the environmental varnish is smooth but not slippery, and the grip is comfortable.
4. Fine workmanship, advanced welding technology, uniform welding, and meticulous grinding.
5. Double lock the lifting knob to prevent the lifting rod from slipping off accidentally.
Specifications of

Fixed Ballet Barre
| | |
| --- | --- |
| Product Name | Fixed Ballet Barre |
| Origin | China |
| Certifications | ISO 9001 |
| Brand | Union Max |
| MOQ | 20 pairs |
| Price | $21.67-181.38/pair |
| Packing | Carton |
| Material | Pine + Stainless Steel |
| Color | White/Pink/Steel |
| Size | 1-10m |
| Usage | Physical Training |