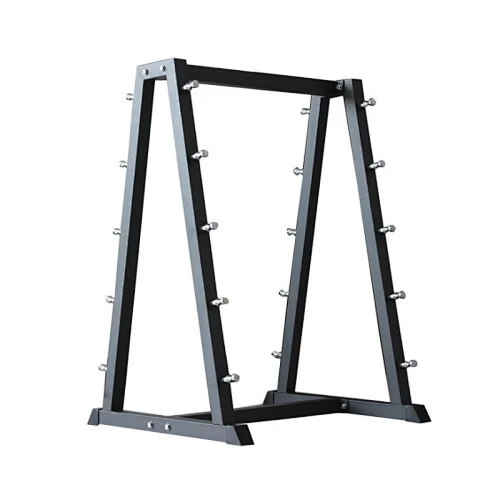 Fixed Barbell Rack
If you're looking for a high quality Black Storage 5 Layer Fixed Barbell Racks, we are the manufacturer for you. We specialize in strength training products, providing you with the best products and service. Contact us today to learn more!
Description of Fixed Barbell Rack
The Fixed Barbell Rack can neatly store the fixed barbells you do not use temporarily, and use this dumbbell rack during training to get the fixed dumbbells you want in time.
Product Features of Fixed Barbell Rack
1. This Fixed Barbell Rack is made of matte black coated steel for a neater look in the gym, and the chrome hooks will stand up to years of use.
2. This product is made of 1.2mm high-quality steel, with a maximum load-bearing capacity of 300kg, which can meet your needs.
3. The size of this product is 85cmL x 75cmW x 120cmH. The frame itself is designed to have a small footprint, making it a great value.
4. This five-tier stationary dumbbell rack holds ten Fixed Barbells for use the gym and in your home.
5. You can buy single racks or Fixed Barbell sets.
6. Carton packaging is provided free of charge, and wooden box packaging requires a certain packaging fee.
Specifications of Fixed Barbell Rack
Product Name

Fixed Barbell Rack

Origin

China

Certifications

ISO 9001

MOQ

30 pieces

Price

$89.55-95.45/piece

Packing

C

arton

 or wooden box

Usage

S

torage

 fixed barbells

Application

G

ym and your home

Material

S

teel

N.W

16.7kg

W

eight

C

apacity

300kg

Size

85cmL x 75cmW x 120cmH

Thickness

1.2mm

Color

Black

Finish

Matte