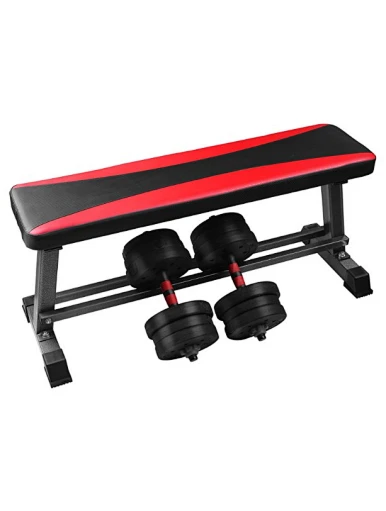 Flat Bench for Bench Press
If you're looking for a high-quality and cost-effective Flat Bench Press, contact Union Max Fitness for the best deals. We ensure quality and affordability for all our customers.
Product Description of Flat Bench for Bench Press
This professional fitness flat bench adopts a double-shaped design and thickened steel, making it highly durable and able to bear more weight. The bottom of the bench is supported by a solid frame that ensures stability and prevents shaking. On top, it is covered with a high-grade comfortable leather fabric that is comfortable, scratch-resistant, and sweat-resistant.
Provide users with an array of sports experiences by enabling multi-sport mode.
1. Back leg lift: exercise the thigh muscles and warm up before dumbbell exercise.
2. Dumbbell flexion and extension over the top wall of the head: mainly to target the biceps.
3. Dumbbell bench press: mainly to work the pectoralis major and triceps.
4. Dumbbell rowing and bent-over rowing: mainly to target the latissimus dorsi and the trapezius with deltoid.
5. Crunches: mainly to work the rectus abdominis.
6. Cycling exercise: mainly to target the thigh muscles.
Specification of Flat Bench for Bench Press
| | |
| --- | --- |
| Product Name | Flat Bench for Bench Press |
| Size | 105*38*46cm |
| Material | Steel+ PU Leather+ Foam Cotton |
| Color | Black+Red |
| Logo | Customizable |
| Packing Details | Opp bag + Carton |