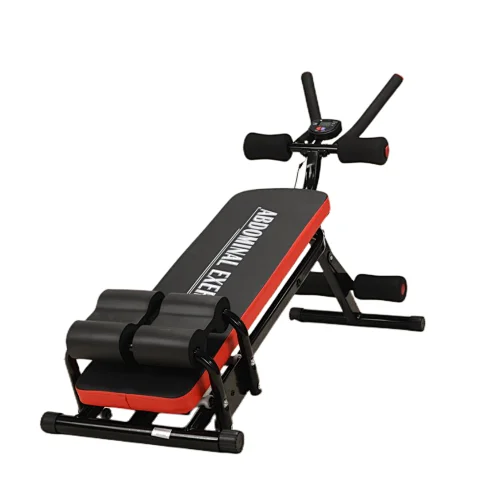 Foldable Supine Board
If you need a high-quality Foldable Supine Board, Union Max Fitness can provide one for you. Get in touch with us to learn more about our product and how it can benefit you.
Description of Foldable Supine Board
The supine board is an innovative piece of fitness equipment that targets abdominal training, providing an efficient and effective way to achieve a flat lower abdomen. With its unique design, it delivers twice the results with half the effort required on conventional workout routines. Versatile and multi-functional, this fitness equipment can be used for a variety of training activities, making it an excellent choice for the entire family. Its novel shape and design offer multiple training options, and it can be easily folded and stored, making it an ideal gym or home training equipment. With its many benefits, the supine board is a must-have for anyone seeking a more effective way to achieve their fitness goals.
Product Features of Foldable Supine Board
1.High-elastic foam sliding components, protection does not hurt the knees; PU leather is wear-resistant and non-slip, beautiful and comfortable, and has a longer life.
2.With a portable electronic counter, real-time detection of motion data, accurate and more practical measurement.
3.Thickened steel and square rail bracket, not easy to fall off, higher safety.
4.The bottom has a rubber anti-skid pad, multi-tooth anti-skid, wear-resistant and safer.
5.Home design, easy to fold and effortless, does not occupy space, it is the best choice for home exercise.
6.Adjustable foot support bracket, multi-level slope adjustment, suitable for different groups of people.
Specifications of Foldable Supine Board
| | |
| --- | --- |
| Product Name | Foldable Supine Board |
| Origin | China |
| Certifications | ISO 9001 |
| Brand | Union Max |
| MOQ | 100 pieces |
| Price | $34.29-41.52/piece |
| Packing | cartons |
| Material | Steel Pipe |
| TubeThickness | 1.5mm |
| Color | Black and Red |
| LoadBearing | 150kg |
| Size | 125*35*80cm |
| N.W/G.W | 10/12kg |
| Applicable | Home, Office, Gym |