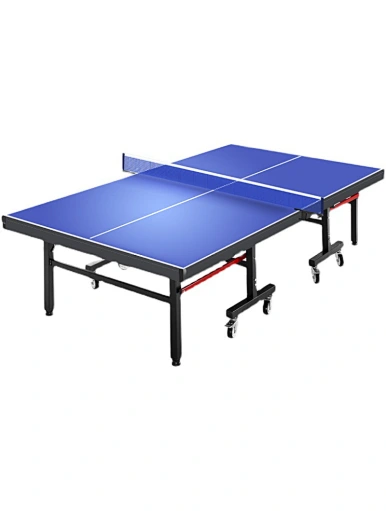 Foldable Table Tennis Table
Foldable Table Tennis Table-1
Union Max Fitness specializes in sports training products including the highest quality Foldable Table Tennis Table. If you need this product, please feel free to contact us.
Description of Foldable Table Tennis Table
The collapsible table tennis table is designed to be easily folded and stored away when not in use. Its structure usually consists of two separate halves that can be folded vertically to reduce the size of the table for storage; separated by a net like a stationary table tennis table. Each half of the table can be locked in an upright position for storage, ensuring the table takes up as little space as possible. Ideal for those with limited space, such as small apartments or rec rooms, or schools and community centers that need to store tables when not in use. They're also convenient for players who want to set up and put down a table quickly and easily, making them a popular choice for casual players and families alike.
Product Features of Foldable Table Tennis Table
1. The desktop adopts international elastic standards, which can effectively help you practice the correct posture and strength of the ball.
2. Multiple large casters with brakes, high load-bearing capacity and easy to move, the table can be folded 90°, and the indoor storage is more space-saving.
3. The corners are made of soft rubber protective material to avoid injuries caused by collisions during exercise.
4. Environmentally friendly painting process, non-toxic and tasteless, safe and reliable.
5. High-elastic cotton net, cast iron spiral net frame, height and tightness can be adjusted arbitrarily.
Specifications of Foldable Table Tennis Table
| | |
| --- | --- |
| Product Name | Foldable Table Tennis Table |
| Origin | China |
| Certifications | ISO 9001 |
| Brand | Union Max |
| MOQ | 10 pieces |
| Price | $115.97-309.52/piece |
| Packing | Carton |
| Material | HDF |
| Specifications | With Wheels/Without Wheels |
| Size | 2740*1525*760mm |
| Usage | Physical Training |