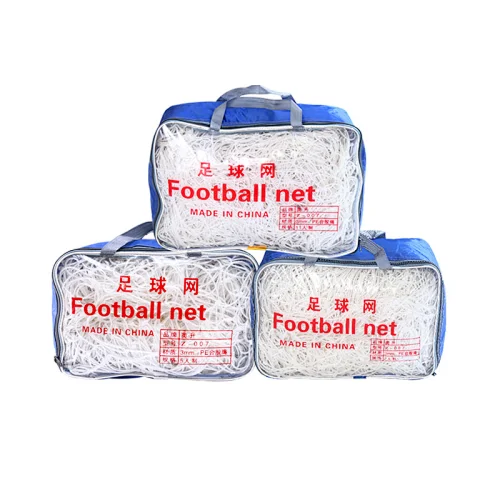 Football Net
Union Max Fitness specializes in sports training products including the highest quality Football Net. If you need this product, please feel free to contact us.
Description of Football Net
A football net is a rectangular goal net, usually made of PE material. It is used in soccer to catch the ball when it passes the goal line and enters the goal area. The net is woven together to create a mesh that is designed to be strong enough to stop a ball passing through it. The net is usually attached to the goalposts and crossbar with hooks or clips and is usually white. It is an essential part of the game of football and is used at both amateur and professional levels.
Product Features of Football Net
1. Standard grid structure, uniform size, no need to worry about the football falling out of the goal.
2. Adopt a variety of thick wires, strong impact resistance; thicker side ropes, durability and toughness are much improved than ordinary ones.
3. Fine workmanship, special net knot and buckle, strong and durable.
4. It is woven with PE material, which is rainproof and sun-resistant, strong and firm, and has a long service life.
Specifications of

Football Net
| | |
| --- | --- |
| Product Name | Football Net |
| Origin | China |
| Certifications | ISO 9001 |
| Brand | Union Max |
| MOQ | 200 pieces |
| Price | $8.25-26.83/piece |
| Packing | Woven Bag |
| Material | PE |
| Specification | 3*2m/5.5*2m/7.5*2.5m |
| Usage | Physical Training |