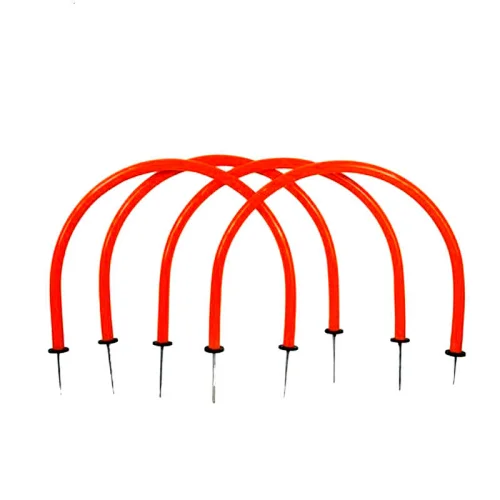 Football Training Arch
Union Max Fitness specializes in sports training products including the highest quality Football Training Arch. If you need this product, please feel free to contact us.
Description of Football Training Arch
Thefootball training arch is a lightweight and adjustable piece of equipment used in soccer training to improve agility, speed, coordination and jumping ability. It usually consists of a set of plastic arches or barriers that can be arranged in various configurations to create obstacles for players to dribble, jump or walk through. Football training arches are commonly used in individual and team training sessions for players of all ages and skill levels.
Product Features of Football Training Arch
1. Crafted from top-notch PVC material that is guaranteed safe and non-toxic.
2. Features a steel needle that boasts excellent hardness, strength, and durability.
3. Exhibits remarkable toughness, allowing the tube body to be flexed considerably without breaking.
4. Comes in bright colors that provide a sharp contrast with the football field, facilitating improved training efficiency.
Specifications of

Football Training Arch
| | |
| --- | --- |
| Product Name | Football Training Arch |
| Origin | China |
| Certifications | ISO 9001 |
| Brand | Union Max |
| MOQ | 100 pieces |
| Price | $2.06-3.10/piece |
| Packing | Carton |
| Material | PVC |
| Size | 55*55cm |
| Color | Orange |
| Usage | Physical Training |