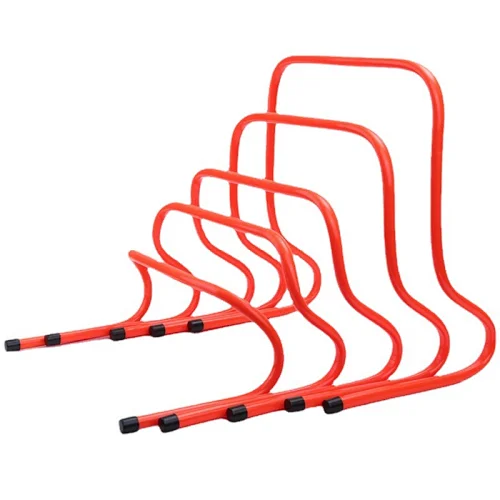 Football Training Hurdles
Football Training Hurdles-1
Union Max Fitness specializes in sports training products including the highest quality Football Training Hurdles. If you need this product, please feel free to contact us.
Description of Football Training Hurdles
Football training hurdles are devices designed to improve a player's speed, agility, timing and coordination. They are rail-like obstacles placed on the ground that the player must jump over while running.Football training hurdles come in a variety of sizes and heights to accommodate players of different ages, sizes, skill levels and training goals. Football practice bars are usually made of durable materials like plastic and are lightweight for easy transport and storage. They can be used indoors or outdoors, on grass, lawn or any flat surface.
Product Features of Football Training Hurdles
1. Made of high-quality imported environmentally friendly ABS material, safe, non-toxic, and odorless.
2. Using the inherent preservation technology of raw material color, it will not fade or fade, and it is resistant to wind and sun.
3. Adopting integral molding technology, the force on the bending part is uniform, no breakage, durable and durable.
4. The head of the cap is made of natural soft plastic, which fits tightly under the belt, does not fall off and prevents dust, and is anti-wear and beautiful.
5. Scientific radian, smooth and stable.
Specifications of

Football Training Hurdles
| | |
| --- | --- |
| Product Name | Football Training Hurdles |
| Origin | China |
| Certifications | ISO 9001 |
| Brand | Union Max |
| MOQ | 100 pieces |
| Price | $1.03-14.03/piece |
| Packing | Carton |
| Material | ABS |
| Size | 15cm/23cm/30cm/40cm/50cm/60cm |
| Color | Orange/Blue/Yellow/Green |
| Usage | Physical Training |