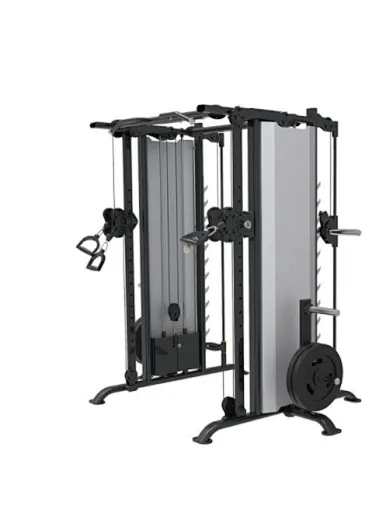 Functional Trainer & Smith Machine
Functional Trainer & Smith Machine-1
Union Max Fitness offers top-quality Functional Trainers and Smith Machines. Contact us if you require any of these products as we are a reliable supplier with a wide range of high-quality options to meet your needs.
Description of Functional Trainer & Smith Machine
Functional Trainer & Smith Machine is a simple gym that can achieve a variety of training movements and provide a comfortable exercise experience. It is composed of high-quality main frame materials such as thickened pipes and non-slip bases, as well as high-quality accessories such as galvanized hanging teeth, non-slip grips, and stainless steel counterweights. It is high-strength and load-bearing, durable, and wear-resistant. All the requirements in the exercise process, are suitable for a variety of people.
Product Features of Functional Trainer & Smith Machine
1. Double pulleys, adjustable in multiple gears; to meet your different height requirements, with insert-type stainless steel counterweights, the height and weight can be adjusted at will.
2. There is a pull-up non-slip handle on the top of the device, which is durable and non-slip, which can achieve multi-function and protect your safety.
3. Galvanized hanging teeth, high-quality materials, high-strength load-bearing, and improved safety; high-quality pulleys are used, which are not stuck, and the use is smoother.
4. The bottom has a non-slip bottom pad, which is safe and non-slip.
5. Thickened and thickened pipes are safe, stable, efficient, and durable; the bow-shaped design structure enhances the stability of the instrument.
Specifications of Functional Trainer & Smith Machine
| | |
| --- | --- |
| Product Name | Functional Trainer & Smith Machine |
| Origin | China |
| Certifications | ISO 9001 |
| Brand | Union Max |
| MOQ | 1 piece |
| Packing | Cartons |
| Material | Steel |
| Size | 1500*2150*2350mm |
| Color | Black |
| G.W | 480kg |
| Applicable | Home, Office, Gym |
| Usage | Fitness |