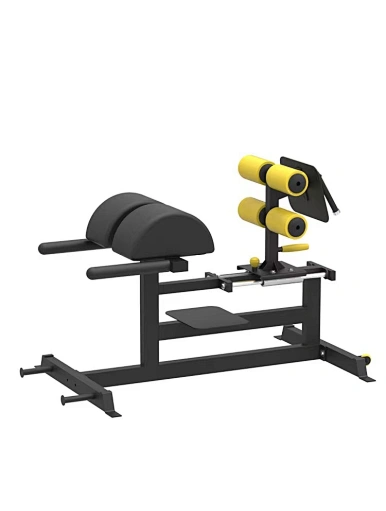 Glute Ham Developer (GHD Machine)
If you are looking for a cost-effective and high-quality GHD machine, please contact us. We provide the best products to meet your needs.
Description of GHD Machine
The Glute Ham Developer (GHD) machine is an effective abs exercise machine that uses the structure of a Roman chair to adjust the body's angle. It offers a more complete stimulation of the upper abdomen, making up for the lack of other crunches. The GHD Roman chair is designed to target the waist and abdominal muscles, helping to improve core strength and explosive power. The adjustable hook plate is made with national standard square tube design for strength and load-bearing, and is suitable for people of all body types.
Product Features of GHD Machine
1. This product is made of solid material, and the pipe is thick and wear-resistant, allowing for safe and stable use. The surface is sandblasted, rust-removed, and anti-corrosive, with no paint drop and a beautiful appearance.
2. It is made of high-quality foam tube that can absorb sweat and is breathable, providing a comfortable sports experience.
3. PU foot-blocking foam is designed to protect the Achilles tendon and joints during exercise.
4. Thickened cotton hemispherical foam pads fit the waist and abdomen better, improving sports comfort and protecting your joints during exercise.
5. There is a hook leg plate, which allows for adjustable distance between the front and rear of the bearing track and thus allows for different intensity training.
6. There is a protruding bar at the bottom with an elastic belt for weight-bearing expansion training, providing more fun and sports experience.
Specifications of GHD Machine
| | |
| --- | --- |
| Product Name | GHD Machine |
| Origin | China |
| Certifications | ISO 9001 |
| Brand | Union Max |
| MOQ | 1 piece |
| Price | $304.57-476.00/piece |
| Packing | cartons |
| Material | Steel |
| Size | 1680*860*1050mm |
| Color | Black |
| G.W | 90kg |
| Applicable | Home, Office, Gym |
| Usage | Fitness |