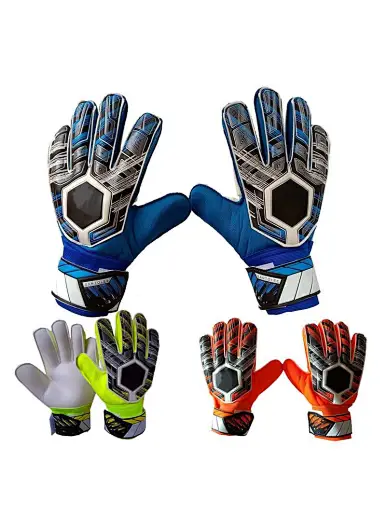 Goalkeeper Gloves
Union Max Fitness specializes in sports training products including the highest quality Goalkeeper Gloves. If you need this product, please feel free to contact us.
Description of

G

oalkeeper Gloves
Goalkeeper gloves are protective gloves that football goalkeepers must wear during the game. They can make the hands more flexible, improve the accuracy and speed of catching the ball, and increase the friction of the hand catching the ball, making it easier to catch and control the ball. The main function is to protect the hands from impact, sprain and other injuries. It is an indispensable equipment for goalkeepers in football matches.
Product Features of

G

oalkeeper Gloves
1. Made of high-quality latex, it has good wear resistance, strong anti-skid force and good hand feeling.
2. The double-layer wristband design tightens the wrist muscles and reduces the risk of wrist sprains. The inner layer is an elastic wristband, which cooperates with the outer wristband for strong protection. The streamlined strap design enhances the appearance of the wrist .
3. The upgraded material of the back of the hand effectively improves the flexibility, and the palm latex brings a comfortable feel.
4. Tough finger shrapnel is embedded and sewn into the finger parts to improve the protective performance of the product.
Specifications of

G

oalkeeper Gloves
| | |
| --- | --- |
| Product Name | Goalkeeper Gloves |
| Origin | China |
| Certifications | ISO 9001 |
| Brand | Union Max |
| MOQ | 50 pairs |
| Price | $4.95-19.60/pair |
| Packing | Carton |
| Material | EVA + Emulsion |
| Size | 5#/6#/7#/8#/9#/10# |
| Usage | Physical Training |