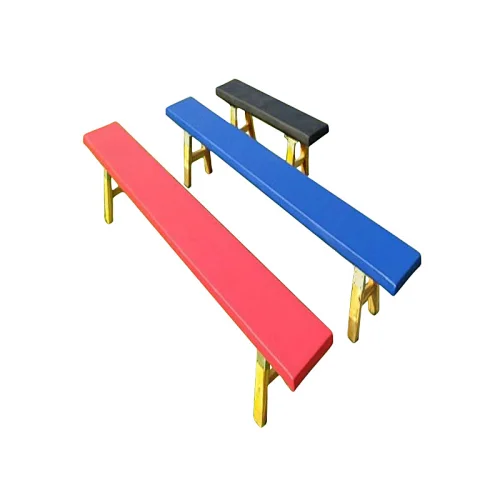 Gymnastics Bench
Union Max Fitness specializes in home workout products including the highest quality Gymnastics Bench. If you need this product, please feel free to contact us.
Description of

 

Gymnastics Bench
Introducing our Gymnastics Bench, also known by aliases such as Dance Leg Press, Gymnastics Balance Stool, Leg Consumption Stool, Stretching Exercise Stool, and Dance Exercise Stool. Made of high-quality solid wood materials, our gymnastics bench is durable, soft, and easy to clean. Available in 5 sizes ranging from 100*30*24cm to 300*30*24cm, the bench is suitable for users of different sizes and exercise styles.
Product Feature of

 

Gymnastics Bench
1.Installation Environment - The gymnastics bench should be installed in a dry, clean, non-corrosive gas and liquid environment to avoid damage.
2.Avoid Hard Cloths - If there is dust on the surface of the handle and base, do not wipe it with a hard cloth.
3.Check Fixing Screws - Before use, ensure that all the fixing screws on the bench are securely fixed in place.
4.Correct Technique - When using the bench for exercises, be sure to maintain proper technique with a natural and graceful posture. Pay attention to using the correct level of strength when grasping the handle.
5.Proper Height - The height of the bench is crucial for a successful workout. If the bench is too high, it can cause shoulder tension, while if it is too low, the center of gravity may be affected. For kindergarten dance, the height should ideally be between 60-90cm.
6. In summary, our Gymnastics Bench is an excellent investment for those looking to improve their gymnastics and dancing abilities. Made of high-quality materials and available in various sizes, it is suitable for people of different ages and abilities. With proper installation and usage, you can safely enjoy the benefits of our incredible gymnastics bench for years to come.
Specifications of

Gymnastics Bench
| | |
| --- | --- |
| Product Name | Gymnastics Bench |
| Origin | China |
| Brand | Union Max |
| Certifications | ISO 9001 |
| Material | Solid Wood |
| MOQ | 2pcs |
| Price | $13.82-42.3/Piece |
| Packing | Carton |
| Color | Purple, Blue, Green, Pink |
| Usage | Leg Exercise |
| Application | Home, Gym, Outdoors |
| | | | | | |
| --- | --- | --- | --- | --- | --- |
| Size/cm | 100*30*24 | 150*30*24 | 200*30*24 | 250*30*24 | 300*30*24 |
| Price/usd | 13.82 | 20.43 | 28.06 | 34.67 | 42.3 |