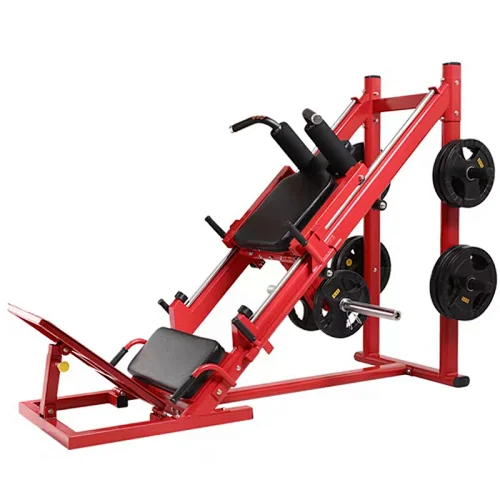 Hack Squat Machine
Union Max Fitness is the manufacturer of Hack Squat Machine. If you are interested in our product or need any further information, please feel free to contact us.
Description of Hack Squat Machine
The inverted pedal machine mainly exercises our quadriceps, which can effectively strengthen the muscles on the front of our legs. It is a basic leg exercise. This reverse pedal machine is a multi-functional two-way reverse pedal machine. The reverse pedal machine and the squat machine can be switched at will within 10 seconds. It is simple and convenient and is essential equipment for professional leg training. Efficient exercise, commercial quality, safe and stable, it is worth choosing.
Product Features of Hack Squat Machine
1. Widened and thickened high-quality PU panel, good leather is soft and does not hurt the skin.
2. Foam armrests are ergonomically designed to make movement more comfortable.
3. Low noise and quiet, smooth stainless steel slide rails, no noise when the slide rails and rollers move.
4. The angle of the bottom plate is adjustable, and the multi-angle adjustment is suitable for the training needs of different people.
5. With a safety bolt, it is safe and stable, and can effectively protect the body when exercising.
6. With non-slip tread pedals, to ensure safe movement.
Specifications of Hack Squat Machine
| | |
| --- | --- |
| Product Name | Hack Squat Machine |
| Origin | China |
| Certifications | ISO 9001 |
| Brand | Union Max |
| MOQ | 1 piece |
| Packing | Cartons |
| Material | Steel |
| G.W | 140kg |
| Color | Black |
| LoadBearing | 1000kg |
| Size | 2000*1000*1700mm |
| Applicable | Home, Office, Gym |
| Usage | Fitness |