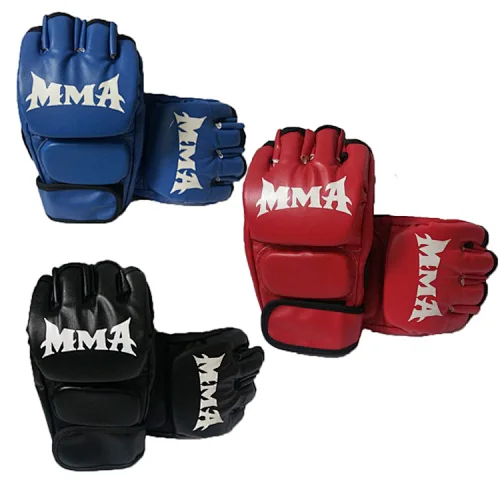 Half Finger Boxing Gloves
Half Finger Boxing Gloves-1
Union Max Fitness specializes in boxing training products including the highest quality Half Finger Boxing Gloves. If you need this product, please feel free to contact us.
Description of Half Finger Boxing Gloves
Half finger boxing gloves allow the user to have a better grip on their opponent during grappling, which is important in MMA. Additionally, the open fingers allow for more flexibility and mobility, allowing the user to move and strike more freely. However, it's important to note that the reduced padding on these gloves also means less protection for your hands, so it's important to use proper technique and not overdo it when punching with them.
Product Features of Half Finger Boxing Gloves
1. These boxing gloves are made of comfortable and durable PU material, designed to conform to the curved shape of the striking surface. This reduces the impact force experienced during a hit, improving overall protection.
2. The gloves feature a one-time foamed inner liner that is both shock-absorbent and comfortable. This liner helps to provide added protection to the knuckles during use.
3. A wide Velcro design with adjustable wrist support ensures a secure fit that won't easily slip off during use. This makes the gloves easy to operate and adds to their overall effectiveness.
4. Strong car line stitching ensures that the gloves remain sturdy and durable over time. The fine line stitching is resistant to opening, providing a long-lasting and reliable product.
5. Featuring an open palm design with separated fingers, these gloves provide maximum comfort and breathability during use. This design also allows for greater flexibility and movement while sparring or training in the ring.
Specifications of Half Finger Boxing Gloves
| | |
| --- | --- |
| Product Name | Half Finger Boxing Gloves |
| Origin | China |
| Certifications | ISO 9001 |
| Brand | Union Max |
| MOQ | 100pieces |
| Price | $3.71-9.90/piece |
| Packing | cartons |
| Material | PU |
| Color | Blue,Red,Black |
| Size | Adult |
| Usage | Boxing Training |