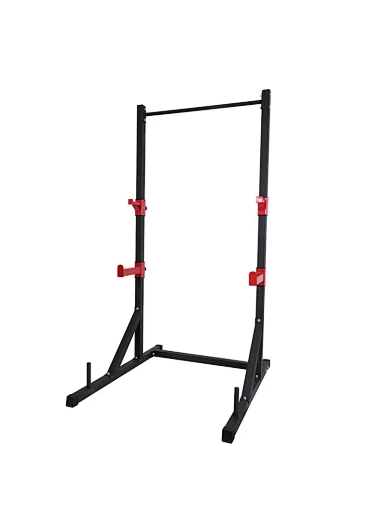 Half Rack For Home Gym
Looking for a Half Rack for your Home Gym? Contact Union Max Fitness for the best quality products and service.
Description of Half Rack For Home Gym
Squat racks are an excellent tool for strengthening your entire body. They are particularly beneficial for developing your leg muscles. This home gym squat rack is simple and effective, while still being of high-quality. If you are looking for a basic squat rack to help you reach your fitness goals, this one is an ideal choice.
Product Features of Half Rack For Home Gym
1. The top adopts a 2.5mm round tube, providing high strength and load-bearing capacity, ensuring your safety.
2. The weight capacity of the barbell holder can reach up to 150kg, making it suitable for light commercial use.
3. The 25cm protective rod can bear up to 100kg, ensuring your safety.
4. The H-shaped steel pipe increases the stress area, while the anti-skid foot cover prevents floor damage and enhances safety performance.
5. A storage area is provided for easy addition and subtraction while keeping it tidy. The universal-sized holes also serve to stabilize the instrument.
6. This squat rack can be used in conjunction with benches, allowing for different training needs such as bench presses and dumbbell lifting.
Specifications of Half Rack For Home Gym
Product Name

Half Rack For Home Gym

Origin

China

Certifications

ISO 9001

Brand

Union Max

MOQ

10 pieces

Price

$52.38-53.34/piece

Packing

Cartons

Material

Steel Pipe

Tube

T

hickness

1.2mm

Color

Black

L

oad

B

earing

300kg

Size

101*120*200cm

Applicable

Home, Office, Gym