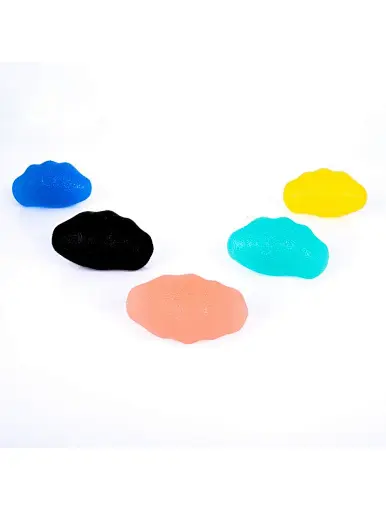 Hand Exercise Ball
Union Max Fitness specializes in home workout products including the highest quality Hand Exercise Ball. If you need this product, please feel free to contact us.
Description of

 

Hand Exercise Ball
Our hand exercise ball is the ultimate tool for strengthening your grip and improving finger dexterity.Made with high-quality TPR material, this ball is wear-resistant, non-slip, and offers unparalleled resilience for long-term use.The potato-shaped design of this exercise ball fits comfortably in the palm of your hand, while the ergonomic design ensures a perfect fit for both left and right-handed users.
Product Feature of

 

Hand Exercise Ball
1.Measuring just 65 grams (or 80 grams including packaging), this ball is compact and lightweight, making it easy to take with you wherever you go.
2.Available in black, blue, yellow, green, and orange, this exercise ball is perfect for anyone looking to add a pop of color to their workout routine.
3.The palm-sized design of this ball ensures an even grip, which helps to prevent fatigue and injury during prolonged use.
4.Packaged in blister packaging for easy storage and transport, our hand exercise ball comes in a pack of 100 and measures 60x39x17.5 cm.
5.Whether you're recovering from an injury or looking to improve your athletic performance, our hand exercise ball is the perfect tool for achieving your fitness goals. Order yours today and take the first step towards a stronger, healthier you!
Specifications of Hand Exercise Ball
| | |
| --- | --- |
| Product Name | Hand Exercise Ball |
| Origin | China |
| Brand | Union Max |
| Certifications | ISO 9001 |
| Material | TPR |
| MOQ | 100pcs |
| Price | $0.8/Piece |
| Size | 7.7*4.5cm |
| Weight | 65g |
| Packing | Carton |
| Color | Yellow, Blue, Green, Black, Orange |
| Usage | Hand Exercise |
| Application | Home, Gym, Outdoors |