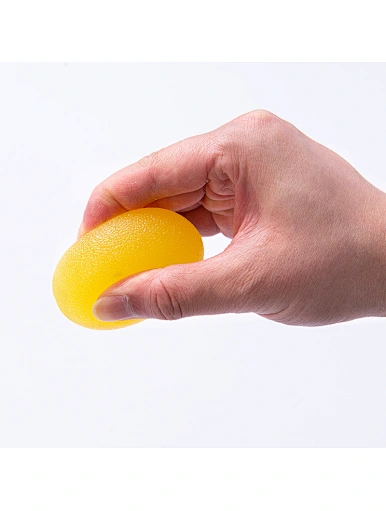 Hand Therapy Ball
We can provide a high-quality hand therapy ball, if you need it, you can contact us.
Description of
 Hand Therapy Ball
A hand therapy ball, also known as a handball therapy, or hand rehab ball, is also a fitness ball. It is made of durable high-elastic materials, suitable for primary strength training and rehabilitation training. Because the grip ball is small in size, it can be carried in a pocket, and can also be taken out to kill time when taking the train or car. Therefore, it is more suitable for people who often work with their fingers and often go out.
Product Feature of
Hand Therapy Ball
1. Basic practice usage: Hold the hand therapy ball completely in the palm of your hand and do ten times of hand stretching exercises, first do the right-hand exercises and then the left-hand exercises, and practice alternately.
2. Applicable people: rock climbers and bodybuilders train finger strength and grip strength; badminton, table tennis, basketball, and other ball sports
.
enthusiasts; learn to play the piano to exercise finger strength; people who use computer keyboards and operate mice for a long time.
3. The hand therapy ball is also called a hand rehab ball. It is made of durable high-elastic TPE material and feels flexible.
4. Various colors correspond to various grip strengths, yellow 15LB, orange 20LB, red 25LB, black 30LB, blue 30LB, and green 35LB
.
5. There are two main shapes, round and egg-shaped, with a flexible feel, suitable for all ages, and can exercise the palm muscles and the flexibility of the fingers.
6. The default is a single transparent PE bag packaging, or it can be packaged in a blister box (additional charge), which can be selected according to your needs.
Specifications of
Hand Therapy Ball
| | |
| --- | --- |
| Product Name | Hand Therapy Ball |
| Origin | China |
| Brand | Union Max |
| Certifications | ISO 9001 |
| Material | TPE |
| MOQ | 2pcs |
| Price | $0.26/Piece |
| Size | 58*44mm |
| Grip | 15-30lb |
| Weight | 56g |
| Packing | Carton |
| Carton Size | 50*35*40cm |
| Color | Blue, Orange, Green, Black, Red, Yellow |
| Usage | Finger Exercise |
| Application | Home, Gym, Outdoors |