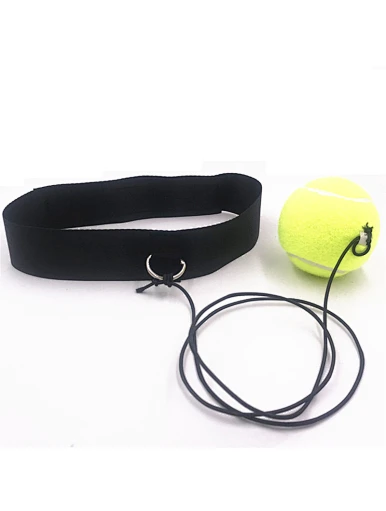 Head Mounted Speed Ball
Head Mounted Speed Ball-1
Union Max Fitness specializes in boxing training products including the highest quality Head Mounted Speed Ball. If you need this product, please feel free to contact us.
Description of

H

ead Mounted Speed Ball
The head mounted speed ball is a common boxing training equipment that can improve the reaction speed. It can provide the boxer with a high-speed moving target, let him practice fast and accurate response, and improve the reaction speed. At the same time enhance hand coordination and increase hand strength. Suitable for indoor training: Compared with other boxing training equipment, the head-mounted speed ball is small in size and light in weight, which is suitable for indoor training.
Product Features of

H

ead Mounted Speed Ball
1. The sweat-absorbing and breathable elastic head circumference prevents sweat from flowing into the glasses, and the Velcro design can freely adjust the tightness.
2. Elastic ball, good resilience, soft touch, no harm to eyes and face.
3. The carbon black metal buckle is safe and firm, making the movement more concentrated, and it will not slip when hitting wantonly.
4. Thickened anti-break elastic cord, more elastic and not easy to break.
5. Three kinds of training balls are optional, and two kinds of headbands are optional; different training balls correspond to different groups of people, making training more effective and easier.
Specifications of

H

ead Mounted Speed Ball
| | |
| --- | --- |
| Product Name | Head Mounted Speed Ball |
| Origin | China |
| Certifications | ISO 9001 |
| Brand | Union Max |
| MOQ | 1000 sets |
| Price | $1.43-3.10/set |
| Packing | Carton |
| Head band Material | PVC, Nylon, Silicone |
| Material | PU/Rubber |
| Weight | 20-80g |
| Specification | Single ball/Double balls/Three balls |
| Usage | Boxing Training |