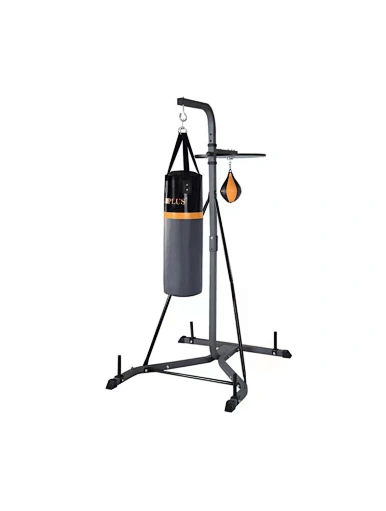 Heavy Bag & Speed Ball Stands
Heavy Bag & Speed Ball Stands-1
We can provide high-quality comprehensive heavy bag stands, if you need, you can contact us.
Description of Heavy Bag & Speed Ball Stands
The heavy bag stand set is a combination of a boxing sandbag rack and a speed ball rack. It takes into account the advantages and disadvantages of the two racks. It is easy to install, saves time, and has a great effect on cultivating athletes' attention and reaction speed. The boxing bag stand has a load-bearing capacity of more than 30kg and can be used by multiple groups of people. It is a perfect two-person sports training equipment.
Product Features of Heavy Bag & Speed Ball Stands
1.360° rotating metal ring, safe, stable and durable, easy to disassemble and labor-saving and more practical.
2.Thickened square steel pipe enhances the stability of the structure, high safety, good materials and good craftsmanship.
3.Bold main frame, stable and safe, to ensure safe support during use.
4.Exquisite plastic non-slip rubber cover, use with confidence.
5.Vertical hanger, easy to move and assemble, fully functional, safe, stable and durable.
6.Sandbags and speed balls are optional.
Specifications of Heavy Bag & Speed Ball Stands
| | |
| --- | --- |
| Product Name | Heavy Bag & Speed Ball Stands |
| Origin | China |
| Certifications | ISO 9001 |
| Brand | Union Max |
| MOQ | 200 pieces |
| Price | $66.67-100.95/piece |
| Packing | Carton |
| Material | Iron Tube |
| Color | Black |
| Load Bearing | Above 30kg |
| N.W | 20kg |
| Thickness | 1.5mm |
| Applicable | Gym or Home |
| Usage | Boxing Training |