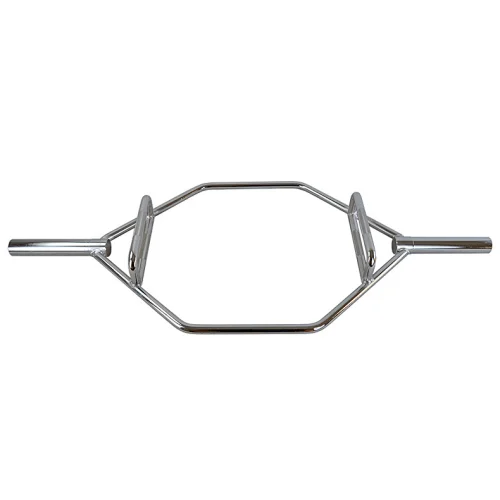 Hex Barbell Deadlift
Union Max Fitness specialize in manufacturing strength training products, including Hex Barbell Deadlift of the highest quality. If you require this product, please do not hesitate to reach out to us.
Description of

 Hex Barbell Deadlift
This bar has a hexagonal design that evenly distributes the weight on the midline of the body, which can effectively reduce the pressure on the lumbar spine. So, it is a great relief for those suffering from back pain. Features a high-quality silver chrome finish and solid steel construction.
Product Features of

 Hex Barbell Deadlift
1. Hex Barbell Deadlift sizes are: 1.42m and 1.65m.
2. Made of high-quality solid steel, the outer electroplating layer is made of high-quality electroplating process, fine workmanship, not easy to wear.
3. This hex bar is durable enough to withstand constant knocks without damage.
4. The double handle design is ergonomic, and the handle has a non-slip pattern to prevent it from falling out during use.
5. For high-intensity, high-rep workouts, these bushings greatly reduce friction, providing reliable rotation while helping to extend the life of the bar itself.
6. Sold individually or in pairs.
7. Conventional carton packaging.
Specifications of

 Hex Barbell Deadlift
| | |
| --- | --- |
| Product Name | Hex Barbell Deadlift |
| Origin | China |
| Certifications | ISO 9001 |
| MOQ | 50 pieces |
| Price | $67.95-70.45/piece |
| Packing | Carton |
| Usage | For Fitness Activities |
| Application | Gym and your home |
| Material | Steel |
| Finish | Electroplated |
| Size | 1.42m and 1.65m |
| Color | Silver, Black |
| Sales model | Sold individually or in pairs |