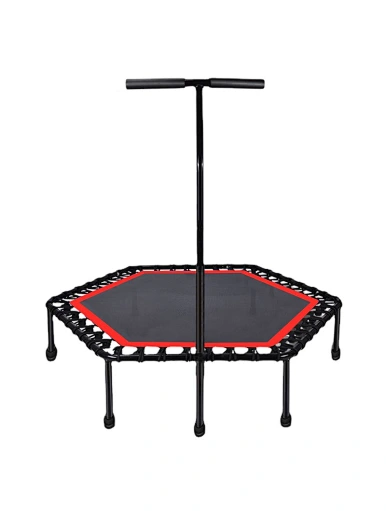 Hexagonal Trampoline With Handrails
Hexagonal Trampoline With Handrails-1
Union Max Fitness specializes in home workout products including the highest quality Hexagonal Trampoline With Handrails. If you need this product, please feel free to contact us.
Description of

 

Hexagonal Trampoline With Handrails
Get your heart pumping and enjoy a fun indoor workout with our Hexagonal Trampoline with Handrails.Our Hexagonal Trampoline has a green, environmental-friendly design that is easy to install and provides a silent workout experience.
Product Feature of

Hexagonal Trampoline With Handrails.
1.Made with high-quality Oxford cloth material, this trampoline measures 45 inches (frame diagonal diameter 111cm) and is available in two spot colors - blue and red.
2.OurHexagonal Trampoline is composed of a sturdy 25MM thick trampoline frame, 6 jumping legs of 1.5MM thickness, and trampoline legs with a height of 25MM, making it a reliable and durable option.
3. With 36 8MM elastic ropes, our trampoline boasts a widened elasticity design, making your workout comfortable and effective.
4.Featuring a strengthened load-bearing capacity and stable suction cup foot pads, you can confidently jump and bounce without the trampoline shifting or sliding.
5.The T-shaped armrest provides a comfortable grip during your workout, with three-level adjustments catering to users of different heights - 1.2m, 1.1m, and 1m.
6.Our product package includes 3 shelves, 1 pack of 6 trampoline legs, 3 armrest sections, 1 jumping cloth, 1 pack of 30 elastic ropes, and a user manual accompanied by a tool kit for easy installation.
7. Overall, our Hexagonal Trampoline with Handrails offers a safe, fun, and efficient indoor workout experience.
Specifications of Hexagonal Trampoline With Handrails
| | |
| --- | --- |
| Product Name | Hexagonal Trampoline With Handrails |
| Origin | China |
| Brand | Union Max |
| Certifications | ISO 9001 |
| Material | PP, Oxford Cloth |
| MOQ | 2pcs |
| Price | $28.88/Piece |
| Weight | 8kg |
| Diagonal Diameter | 111cm |
| Packing | Carton |
| Color | Black,Red |
| Usage | Leg Exercise |
| Application | Home, Gym, Outdoors |