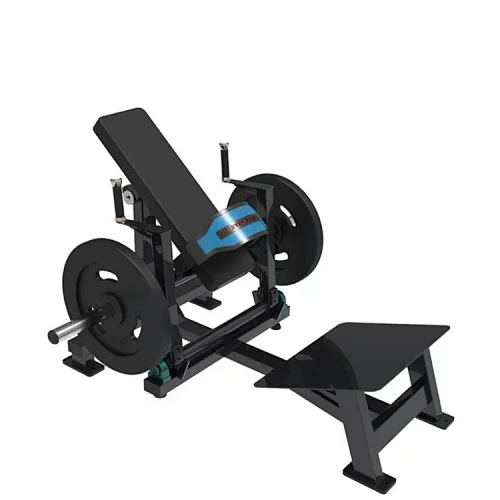 Hip Lift Glute Machine
Union Max Fitness is the manufacturer of the Hip Lift Glute Machine. If you are interested in purchasing this machine or have any questions, please feel free to contact us.
Description of Hip Lift Glute Machine
This commercial grade hip lift glute machine is perfect for developing functional strength in the hip and gluteal muscles. It provides users with full control during hip thrusting movements, allowing for adjustable and dynamic motion. This machine is ideal for strength training and gaining explosive power. Its bold and thickened main frame pipe design is made from professional quality materials for guaranteed quality.
Product Features of Hip Lift Glute Machine
1.This machine features an increasingly thick pipe made from sturdy and durable material that enhances stability and provides safe and efficient exercise.
2. The machine has been fitted with leather cushions that offer superior comfort, waterproof and sweat-proof capabilities, and wear-resistant and breathable features.
3. A blade-type counterweight has been added to the design for ease of operation and the freedom to adjust the counterweight for smooth, unrestricted movement.
4. The non-slip grips and pedals, combined with advanced safety features, create a safer and more comfortable workout experience.
5. With the addition of a widened foot cover, users can exercise on a larger force-bearing area, improving stability and protecting the floor at the same time.
6. Focused on developing and strengthening the glutes - significant muscles in most sports - the machine comes equipped with a comfortable waist belt that protects the spine and enhances safety during use.
Specifications of Hip Lift Glute Machine
| | |
| --- | --- |
| Product Name | Hip Lift Glute Machine |
| Origin | China |
| Certifications | ISO 9001 |
| Brand | Union Max |
| MOQ | 1 piece |
| Packing | Cartons |
| Material | Steel |
| Size | 1800*760*1250mm |
| Load Bearing | 150kg |
| G.W | 85kg |
| Applicable | Home, Office, Gym |
| Usage | Fitness |