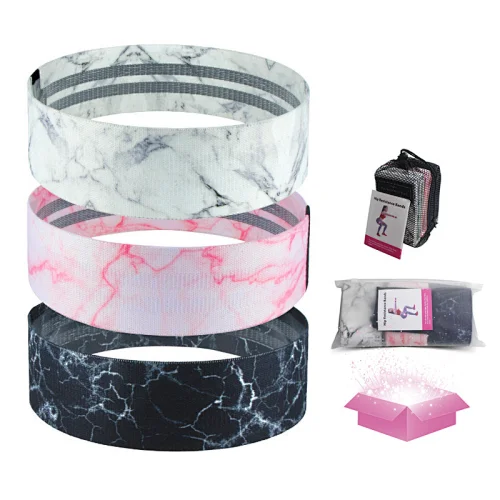 Hip Resistance Band Set
Hip Resistance Band Set-1
We can provide high-quality Hip Resistance Band Set, if you need them, you can contact us.
Description of Hip Resistance Band Set
The Hip Resistance Band Set contains three hip resistance bands, different resistance values can meet the daily exercise needs of the family, multi-angle resistance for muscle training, effective buttock plastic, beautify the leg line, and easy to carry, at home or in the office Can be used, very convenient.
Product Feature of Hip Resistance Band Set
1. Quality workmanship, and exquisite seaming
The connection is reinforced to prevent eversion or breakage during use.
2. High-strength stretching, not afraid of breaking
The product adopts composite knitting technology, with built-in natural latex silk, which can withstand high-strength tension of 180lb
3. Non-slip and non-displacement
The inner double-layer anti-slip strip enhances the stability of the position of the elastic ring during training.
4. Configuration in the suit
Hip Resistance Band Set*3, Mesh Bag*1
5. Matching of different colors and resistance values
There are green, pink, purple, gray, black, etc., and the corresponding tension is configured: 18-32lb, 30-50lb, and 45-70lb tension for you to choose from.
6. Support customization
This product can be customized in color, size, and logo from 50 sets.
Specifications of Hip Resistance Band Set
Product Name

Hip Resistance Band Set

Origin

China

Brand

Union Max

Certifications

ISO 9001

Material

Tapecotton

,

 

L

atex

S

ilk

MOQ

2

pcs

Price

$

3.7-5.14/

Piece

Size

76*8cm

Weight

400g

Packing

Carton

Carton

 Size

35*35*50cm

Color

Gray

,

G

reen

, Pink, Black, Purple

Usage

Exercise

 Y

our Gluteal

M

uscle

Application

Home, Gym, Outdoors
Set

Color

Resistance Level

Uses

Piece

Color

S

uit

Lake Blue

18-32lbs

Beginner

$

3.7

Pink

30-50lbs

Intermediate

Purple

45-70lbs

Athlete

Grey Suit

Light Gray

18-32lbs

Beginner

$

3.7

Dark Grey

30-50lbs

Intermediate

Black

45-70lbs

Athlete

Red Suit

Pink

18-32lbs

Beginner

$

3.7

Rose

30-50lbs

Intermediate

Watermelon Roes

45-70lbs

Athlete

Purple Suit

Pale Purple

18-32lbs

Beginner

$

3.7

Purple

30-50lbs

Intermediate

Dark Purple

45-70lbs

Athlete

Marbling Set

Grey

18-32lbs

Beginner

$

5.14

Pink

30-50lbs

Intermediate

Black

45-70lbs

Athlete