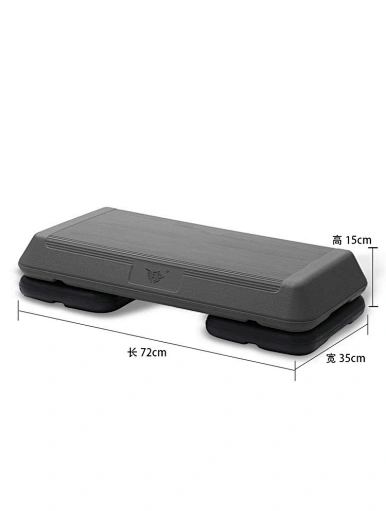 Home Fitness Aerobic Step For Sale
Union Max Fitness manufactures core exercise products including the highest quality Aerobic Step. If you need this product, please feel free to contact us.
Description of Aerobic Step
The Aerobic Step is used to do pedal aerobics. As a form of aerobics, pedal aerobics has increasingly become a fashionable weight loss method in the world. Combined and completed on a special pedal, the bodybuilder can more effectively improve their coordination.
Product Feature of Aerobic Step
1. The product adopts a blow molding process and is made of PE with a shock absorption effect.
2. With texture design, excellent anti-skid performance.
3. There are 40/70/108cm, three sizes to choose from.
4. Conventional products (70/108cm) have three heights of 10, 15, and 20cm that can be adjusted, and square models (40cm) have five heights of 10, 15, 20, 25, and 30cm that can be adjusted to meet different fitness needs.
5. A variety of colors for your choice.
6. Easy to use, no need to assemble.
Specifications of Aerobic Step
| | |
| --- | --- |
| Product Name | Aerobic Step |
| Origin | China |
| Brand | Union Max |
| Certifications | ISO 9001 |
| MOQ | 2pcs |
| Price | $13.2-21.7/Piece |
| Color | Purple, blue, red, black, gray |
| Packing | Cartons |
| Material | PE |
| Length | 40/70/108cm |
| Usage | Aerobic exercise |
| Logo | Custom |
| Application | Exercise, Home Gym, Workout |
| Process | Blow Molding |