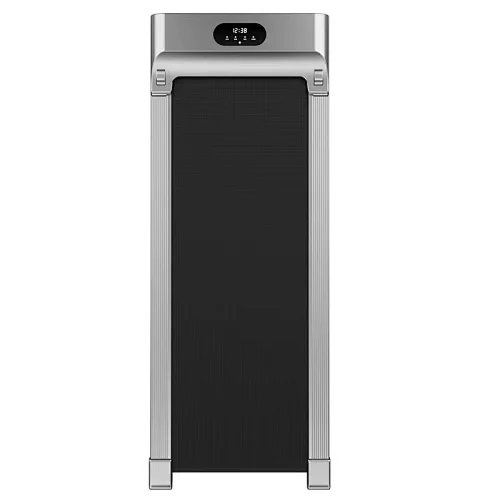 Home Walking Pad Treadmill
If you are in need of a walking pad, please contact Union Max Fitness. We are the supplier of walking pads.
Description of Home Walking Pad Treadmill
This walking pad is an ideal piece of home fitness equipment for its convenience and space-saving design. It is thinner than other treadmills, making it easier to store. The luxury model comes with wireless intelligent remote control one-button start, allowing you to start or stop exercise without bending over. The flagship model also offers a remote control and wireless control, as well as an upgraded APP for extra features. With multiple options available, you are sure to find the perfect fit for your needs.
Product Features of Home Walking Pad Treadmill
1. This wireless intelligent remote control makes starting easy with just one click, no bending required, and the speed is adjustable.
2. The LED display makes data visible in real-time, allowing you to check your workout volume (time, speed, distance, calories) at any time, and understand the amount of calories burned accurately.
3. The powerful CNC motor provides continuous and stable output of strong power, energy-saving and stable, and the smooth running without lag is guaranteed by the quiet Seiko motor.
4. This walking machine supports variable-speed running, you can choose between walking and running, and it can be adjusted between 1-6km/h at different speeds, providing more options.
5. The walkingpad treadmill has a 50cm wide platform, which is comfortable and widened; the 100kg weight capacity ensures stability and gives you the most comfortable experience.
6. The compact foldable treadmill can be placed anywhere and it takes up little storage space. It can be placed anywhere, from light to thin, with a 0.06-floor area, giving you more exercise area.
7. Quiet noise reduction is available thanks to the six buffer columns evenly distributed at the bottom of the treadmill, reducing the impact of running, and the knee pads effectively control noise.
8. The one-piece hidden armrest is easy to fold, and the smart Bluetooth APP offer live private teaching courses, making your sports more interesting.
Specifications of Home Walking Pad Treadmill
Product Name

Home Walking Pad Treadmill

Origin

China

Certifications

ISO 9001

Brand

Union Max

MOQ

100 sets

Price

$232.38-247.62/set

Packing

Cartons

Material

Steel

G.W

15kg

Color

B

lue,

P

ink

L

oad

B

earing

100kg

Belt size

1040*380mm

Size

1270*580*126mm

Speed

1-6km/h

Power

0.75HP

Applicable

Running, Fitness

Usage

Home, Office